The six-man team tennis event, co-founded by Roger Federer and featuring Canada's Felix Auger-Aliassime, takes over Rogers Arena Sept. 22-24.
Article content
Roger Federer is coming to Rogers Arena and bringing some friends.
Article content
The 20-time Grand Slam singles champion, who retired from competition last year, is the co-founder of the Laver Cup and he's slated to be on hand when the two six-man teams duel in the latest incarnation of the event at the downtown Vancouver rink Sept. 22-24.
Article content
The will be a ceremony on opening night to celebrate the first anniversary of Federer's last competitive match, which came at last year's Laver Cup at the 02 Arena in London, England.
The Laver Cup is the brainchild of Federer and his agent, Tony Godsick, who were looking to both honour tennis great Rod Laver and also have an event akin to the Ryder Cup, the men's golf competition between teams from Europe and the U.S.
It's Team Europe vs. Team World for the Laver Cup, with the squads captained by Bjorn Bjorg and John McEnroe, respectively.
Article content
This is the sixth year of the competition.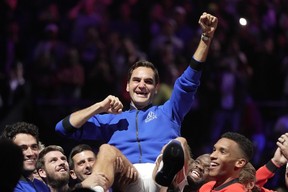 "Fans can expect tennis like they've never seen before," said Laver Cup CEO Steve Zacks. "You'll see players cheering on their teams from the sidelines. You'll see doubles teams you've never seen before. It's on a black court, with great lighting.
"It's totally unique experience."
Here are five others things to watch for with the tournament:
1. Canadian Auger-Aliassime headlines Team World
Montreal's Felix Auger-Aliassime (ranked No. 15) is part of Team World, along with Americans Taylor Fritz (No. 9), Frances Tiafoe (No. 10), Tommy Paul (No. 14) and Ben Shelton (No. 46), as well as Argentina's Francisco Cerundolo (No. 20).
Auger-Aliassime played last year for the McEnroe team that won the Laver Cup 13-8 in London, as did Frtiz and Tiafoe. Paul was an alternate on the squad.
Article content
Bjorg's Team Europe squad has Denmark's Holger Rune (No. 4), Norway's Casper Ruud (No. 5), Greece's Stefanos Tsitsipas (No. 7), Russia's Andrey Rublev (No. 8), Poland's Hubert Hurkacz (No. 17) and France's Gael Monfils (No. 162).
"That's been one of the most gratifying aspects — that the players took to it immediately," said Zacks. "We didn't know what to expect. Nor did they. We spent a lot of time thinking about the format, the rules, making it so it was appealing to the players. They gravitated to it immediately, formed their teams and competed hard."
Canadian content has been a constant with the Laver Cup. This is a third time participating for Auger-Aliassime. Denis Shapovalov has played in three as well, and Milos Raonic took part in 2019.
Article content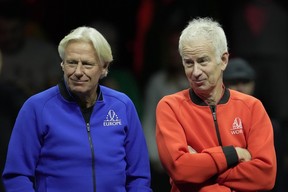 2. Famed rivalry between John McEnroe and Bjorn Bjorg continues
McEnroe had to pull out of broadcasting the US Open due to testing positive for COVID, according to posts on his social media accounts. There's been no word out of the Laver Cup organizers about any sort of change involving him.
McEnroe, 64, and Bjorn, 67, have one of sports' most storied rivalries, in part because of the contrasts in personality between the fiery McEnroe and the stoic Bjorn. They met in nine tournament finals, including twice each in US Open and Wimbledon. McEnroe won five of those.
"McEnroe and Bjorg have been the perfect captains. They have this incredible history with each other. They have maybe the most iconic rivalry in tennis," said Zacks. "Even though they competed hard and had some tough wins and loses, they respect each other and appreciate each other.
Article content
"They really want to win and they're great mentors to these players. That's another reason why the players enjoy playing: to be able to spend a week being mentored by these two legends."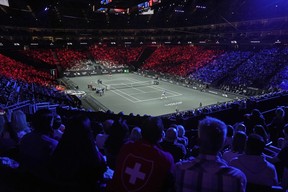 3. Black court part of Laver Cup trademark
Zacks says the Laver Cup went to the black court because organizers wanted the event to be "distinct."
"A lot of the tournaments have the colour they're associated with. When you think of Wimbledon, you think of green. When you think of the French Open, there's the red clay," he continued. "We were looking for our unique position and we also knew that it was a premium event and we gravitated to black.
"We weren't sure if we could do it. When we first came up with it, the first question was, 'Why does this not exist already?' It's challenging for the lighting and to make it really rich. We created and tested our own paint colour to finally get it to a place where we were comfortable doing it. We launched it and now it's part of our signature."
Article content
4. Negotiations to come to Vancouver started in 2018
The Laver Cup is in different city every year. They rotate between Europe and rest of the world annually.
Zacks says that organizers started talking with folks in Vancouver in 2018.
"We want to move it around to places that have a variety of different characteristics," he said. "Included in that is a great city that fans will want to visit as well and, where possible, we're introducing the event to a market where this isn't already a major tournament in place.
"We also knew that this is a great time for tennis in Canada."
The 2024 Laver Cup is set for Mercedes-Benz Arena in Berlin, Germany.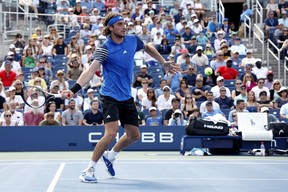 5. Open practice raising funds for the David Foster Foundation
The Laver Cup will hold an open practice on Sept. 21, with all proceeds going to the David Foster Foundation. Doors open at 11 a.m., with Team World hitting the court at 12 p.m. and Team Europe following at 1 p.m 
Article content
The David Foster Foundation is a non-profit charitable organization that for the past 37 years has assisted more than 1,400 families with children in need of major organ transplants and provided much-needed dollars in direct family support.
Check out the Laver Cup website for ticket information.
---
Bookmark our website and support our journalism: For up-to-the-minute B.C. news and the latest on the Canucks, B.C. Lions and Vancouver Whitecaps, add TheProvince.com to your bookmarks and sign up sign up for our free Canucks Report and other newsletters here.
You can also support our journalism by becoming a digital subscriber: For just $3.50 per week, you can get unlimited, ad-lite get unlimited, ad-lite access to The Province, The Vancouver Sun, National Post and 13 other Canadian news sites. Support us by subscribing today: The Province | The Vancouver Sun.
Netflix's wild ride in the world of sports documentaries

First-ever female draft pick Chloe Primerano in mix with Vancouver Giants for second training camp

Simmons Says: Brian Burke stepping into what could be his most important role yet