The B.C. Lions travel to Mosaic Stadium in Regina for Sunday's showdown with the Roughriders, who harangued the Leos' pivots relentlessly in their Week 7 meeting.
Article content
The Saskatchewan Roughriders had the B.C. Lions offensive line chasing ghosts in their Week 7 matchup at B.C. Place. But it was starting quarterback Vernon Adams Jr. who ended up being planted in the ground with pennies on his eyes, a first-quarter sack knocking him from the game — and the following two.
Article content
The blitzes came from every direction and misdirection, confounding, engulfing and overwhelming the Lions' offensive line. Adams got hit on four of his five dropbacks, the last of which was the fateful Pete Robertson sack. On that play, linebacker Larry Dean came chugging unblocked when the Lions' line slid to the right, forcing Adams right into the arms of Robertson, the blunt force trauma expert.
Article content
"I just saw something that wasn't there. And I got my eyes away from where they should have been," said centre Michael Couture, who after the game called the first half "brutal" and one of the worst he could remember.
"And, you know, I was forced to watch that play again a number of times this week in our prep, so that won't happen again. It got less and less bad every time I watched it, but for the first time … I was like, 'Man, this sucks.'
Article content
"We just made necessary changes in our protection. It starts with me. I make the (protection) calls and everything like that, so the necessary adjustments have been made. I won't get into that … but yeah, looking forward to bounce back from Game 1 against them. We didn't play great up front last time, but every week is a new challenge and we're super excited to go in there and show what we got.
"We're ready for everything. They might come with a new flavour or something, and that's something that we'll deal with on the sideline, if it comes."
The Lions (7-2) won the July 22 game 19-9, but it was arguably their worst offensive performance of the year — and that includes the two losses to Toronto and Winnipeg, where they were outscored a combined 95-38.
Article content
Their first three drives ended in two-and-outs, with grand totals of five, zero and minus-12 yards. When Dane Evans came in the game for Adams, it was more of the same. Demarcus Christmas got to Evans for a safety on the next series, but it was overturned on a soft — if technically correct — roughing-the-passer call that had the Riders' incensed.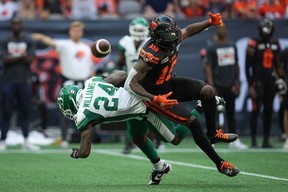 Evans connected with Keon Hatcher for 53 yards, then hit Alex Hollins on a 27-yard touchdown, for the game's only TD drive, 84 yards in total. But it wasn't a portent of things to come. Two other drives ended in zero yards gained, and two more went for negative yards, including a Christmas strip-sack of Evans at midfield. One more for a whopping 10.
All four Riders' sacks came in the first half, but there wasn't much traction offensively. B.C.'s total of 231 yards of offence was one more than they mustered against the Bombers in their blowout loss. Those are the only two games when they have been held under 300 yards in offence, and one of two games B.C. has given up four or more sacks.
Article content
"They have good players. They were doing some good blitz stuff as well," said coach Rick Campbell. "(Pass protection), it's a function of our whole offence. It's not just our offensive line, it's the running back helping out, the QB getting the ball out of his hands, receivers running the correct routes, mixing up the play calls … all those things to combat that, and we're gonna have to be good."
Roughriders 30, Lions 27: B.C. has found a beast in Wyoming WR Ayden Eberhardt

Lions 19, Roughriders 9: Leos win the game, but lose Vernon Adams Jr.
Adams is ready for Round 2 on Sunday, coming in the noisy confines of Watermelon Patch Central, Mosaic Stadium. His knee isn't sore, and neither is he, despite how his last game against them went.
Article content
"Obviously, I do want to come out here and play the whole game and get a win against these guys, but it's nothing crazy," he said Friday after practice.
"The O-line, myself, the running backs, we get together the day before the game and we go through the protection checks and everything like that. We're going to watch it again tomorrow. We watched it earlier this this week on Day 1, and we're going to be ready for whatever they got to bring in.
"There's always going to be one or two you might want back, you know, but yeah, just have to stay locked in to each play and just take it play by play. Football is the ultimate team game and we all have to be on the same page. If we're not … then bad things might happen."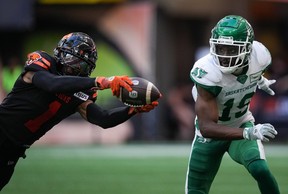 And plenty of bad things have happened for the Riders (4-5), who lost QB Trevor Harris for the season, and then backup Mason Fine last week. Jake Dolegala will start for Saskatchewan in Sunday's game. He was 11-of-20 for 107 yards and an interception after taking over for the injured Fine in their 41-12 loss to Montreal.
Article content
"I don't think you can get too caught up in that, 'He's a third-string quarterback.' They have a lot of good players, they have a good team, and it's really about what we do and how we play. So I don't think you can get caught up in that business," said Campbell. "It's a dangerous game to play.
"The guy has been around too. It's not like he's just flown in here and is figuring out the CFL game. He's been around, he understands their offence, understands the CFL, knows their players, all those things. So we got to be ready to go and play well."
Twitter.com/TheRealJJAdams
---
NEXT GAME
Sunday
Saskatchewan Roughriders vs. B.C. Lions
4 p.m., Mosaic Stadium, TV: TSN, Radio: AM730
---