After a decade of hearing about the arrival of Canada's "Golden Generation" of ballers and so many crushing defeats, finally, indisputably, the future is now.
Get the latest from Ryan Wolstat straight to your inbox
Article content
In the wake of Canada's thrilling overtime win over the United States on Sunday to capture the bronze medal at the FIBA World Cup, most seemed to want to look ahead to Paris 2024.
Article content
While that's understandable, seeing as it will be the first Olympics for Canada's senior men since 2000, it's also worth pausing briefly to reflect on just what the team accomplished this summer in Europe, Indonesia and the Philippines over the past month.
Article content
After a decade of hearing about the arrival of Canada's "Golden Generation" of ballers and so many crushing defeats, finally, indisputably, the future is now. No longer will Canadians have to look back to the Leo Rautins, Jay Triano, Jack Donohue glory days of the 1970s and 1980s or Steve Nash's magnificent run from 1994-2001.
While Canada's female players have become a contender in more recent years, the men had not followed suit. Until now.
Achieving the first medal in the program's history at a FIBA World Cup was not some sort of fluke. This team had to beat the U.S. for the medal (even a weakened U.S. side still has more overall talent than any other opponent), as well as defending champion and World No. 1 Spain, and a Slovenia team boasting perennial NBA MVP candidate Luka Doncic.
Article content
Earlier, Canada had bested the Spaniards in Spain and split a pair of exhibitions with a German team that would go on to win gold. There was also a blowout win over a plucky Latvian team that was the underdog story of the event and, of course, the opening statement was made by absolutely destroying World No. 5 France.
Shai Gilgeous-Alexander followed up his first-team all-NBA season for Oklahoma City by being the best single performer at the World Cup (new Raptor Dennis Schroder won MVP because of his work in helping Germany prevail, but nobody was better in a vacuum than the Hamilton-born guard).
Dillon Brooks shook off a rough ending to his season and time with the Memphis Grizzlies by dropping 39 points on the Americans and also by being named best defensive player of the tournament.
Article content
RJ Barrett, the son of the team's general manager, had some big moments. Captain Kelly Olynyk and fellow front-court veteran Dwight Powell did a lot of the grunt work and head coach Jordi Fernandez, parachuted into the job just weeks before camp opened, was masterful. He inspired the group, motivating them when needed, reminding them of what would bear fruit and for the most part making the correct substitutions.
Fernandez made some bold calls, particularly when he went small and benched either Olynyk or Powell and it paid off. He had said he believed Canada could be the best defensive team at the tournament and they ended up being close to that.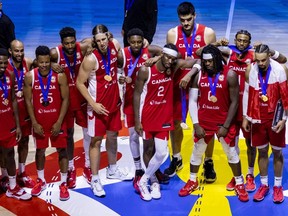 "We have a great coach who believes in us, has great schemes, is very patient with us, finds a way to motivate us every single day to get better and figures out how to get guys in the NBA, who don't get paid for this, to sacrifice," Brooks said Sunday. "Kudos to Jordi, he's been one of my best coaches I've ever played with and we're grateful for everybody in this thing."
Article content
The 12-team Olympic field will be extremely tough, but there's a chance Canada can win its first Olympic medal since 1936. After claiming its first World Cup hardware on the heels of its first Under-19 medal (gold, led by Barrett, in 2017) and Pan Am Games (silver in 2015 in Toronto) Canada has served notice that podiums are finally in reach.
"We wanted it, this bronze medal, to do something that hadn't been done, to keep creating history," Brooks said. "It's a great stepping stone for us as a ball club, as a country, and we all just wanted to make our country proud."
That they certainly did.