The winger is still struggling to process the game at the NHL level and, on Sunday, he was demoted to the AHL affiliate in Abbotsford
Get the latest from Ben Kuzma straight to your inbox
Article content
Vasily Podkolzin was presented with a challenge.
Article content
Want to be part of the Vancouver Canucks' opening-night lineup on Oct. 11? Show something. Anything.
Article content
The Moscow native is a new father and is also in the final year of his entry-level contract. The restricted free agent has not only looked leaner and quicker, but is also stronger.
However, all that hasn't translated. The winger is still struggling to process the game at the NHL level. On Sunday, he was demoted to the AHL affiliate in Abbotsford, where he'll get ample ice time.
That wasn't the plan in Year 3 for the 10th overall selection in the 2019 draft.
Podkolzin went pointless in two pre-season NHL games and didn't do anything to move the meter for head coach Rick Tocchet. Even with Ilya Mikheyev continuing to skate while rehabbing from February knee surgery, the left-side opportunities have been gobbled up so far by Anthony Beauvillier, Phil Di Giuseppe, Nils Hoglander and Nils Aman.
Article content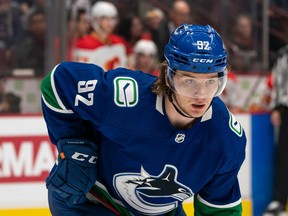 "He's a great kid, but he takes everything literally, though," said Tocchet. "You tell him something and that's all he thinks about. When he thinks too much, that's when he gets into trouble."
Podklozin, 22, is physically healed from a left wrist injury suffered during a board battle on March 25 in Dallas. It shut his season and kept him from playing in the AHL playoffs with Abbotsford.
He's also mentally healed from enduring the dreaded sophomore slump. After scoring 14 goals in his rookie captain, he couldn't buy a goal to start last season, registering just three assists through 16 games and six healthy scratches.
His assignment to the minors in Abbotsford on Nov. 29 was a major development. He took ownership of his poor play, and embraced the guidance of coach Jeremy Colliton and player development masters in Henrik and Daniel Sedin. His 18 points (7-11) in 28 games were a result of understanding players will face adversity and doing something about it.
Article content
He gained a confidence and earned an NHL recall.
"I had two ways to go. Give up or work," recalled Podkolzin. "It was good for me to get some AHL games to remember who you are and start appreciating. It was being stronger on the puck and confidant and just focusing on yourself and not other things.
"It's about working on your mentality. This is my third year here and I want to be useful for this team. I have to stay positive."
How he handles his latest setback will be interesting.
Who else was assigned to Abbotsford
Also assigned to the Canucks' AHL team are:
• Danila Klimovich
• Aatu Raty
• Max Sasson
• Linus Karlsson
• Arshdeep Bains
• Tristen Nielsen
• Josh Bloom
• Aidan McDonough
• Akito Hirose
• Filip Johansson
• Nikita Tolopolo
Article content
Who was placed on waivers
Placed on waivers for purpose of being reassigned to the AHL are:
• Jett Woo
• Matt Irwin
• Sheldon Dries
• Jack Ratbone
• Zach Sawchenko
And finally ….
Chase Wouters, Quinn Schmeimann and John Stevens have been released from professional tryout contracts and will join Abbotsford.
More to come …
Recommended from Editorial
Canucks: So, Cole McWard could be a thing

Canucks 5, Oilers 2: Captain Quinn Hughes is ready
---
Bookmark our website and support our journalism: Don't miss the news you need to know — add VancouverSun.com and TheProvince.com to your bookmarks and sign up for our newsletters here.
You can also support our journalism by becoming a digital subscriber: For just $14 a month, you can get unlimited, ad-lite access to The Vancouver Sun, The Province, National Post and 13 other Canadian news sites. Support us by subscribing today: The Vancouver Sun | The Province.