Young and four other Vancouver Canucks have been cut from the pre-season roster
Article content
The Vancouver Canucks' goalie development conveyor belt remains robust.
Article content
The NHL team announced Monday they'd signed prospect Ty Young to a three-year entry level contract, which won't kick in until next year.
Article content
Young was drafted in 2022 and is a big project for Canucks goaltending guru Ian Clark.
The Canucks also re-assigned Young to his junior team on Monday, along with four other junior-aged prospects
Along with Young, three 2023 draft picks — defencemen Hunter Brzustewicz (Kitchener Rangers), Sawyer Mynio (Seattle Thunderbirds) and winger Vilmer Alriksson (Guelph) — and one 2022 pick — defenceman Kirill Kudryavtsev (Sault Ste. Marie) — have been sent home after playing for the Canucks at the Young Stars Classic and then taking part in training camp through Sunday in Victoria.
All five players showed well enough in their stints in Canucks blue and green, but all still have a long way to go to position themselves as anything more than long-shot prospects.
Article content
Young struggled at times last season, his first full season in major junior, but Clark has said he has all the physical tools to succeed.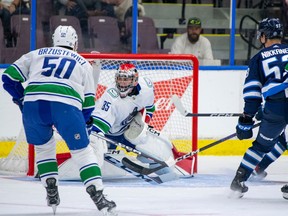 The selection of Brzustewicz this summer was widely praised by draft observers, with the Canucks taking a stab at a defenceman who has strong puck skills and is considered to be well-rounded overall. Many thought he'd be selected in the second round.
Mynio, on the other hand, doesn't have much offensive game, but is considered a stout defender. The Canucks signed Mynio to an entry-level deal on the weekend.
Alriksson is a giant at 6-foot-6. He had a big growth spurt over the past year or two and is still coming to grips with how to use his size to his advantage. Kudryavtsev is a skilled puck mover who needs further rounding and precision to his game.
He signed an entry-level deal last March, but like Young and Mynio, his contract won't kick into action until he turns pro and even then, it can be slid back a year if he doesn't play 11 games in the NHL.
Flames 10, Canucks 0: Have mercy — Canucks kids clobbered in first pre-season test

Canucks sign defenceman Sawyer Mynio to three-year contract