When crunch time hits, he has always been the engine that drives his teams, his coaches and teammates say.
Get the latest from Patrick Johnston straight to your inbox
Article content
It is hard to find someone who isn't surprised that Quinn Hughes has been named captain of the Vancouver Canucks.
Article content
Hughes is quiet, everyone agrees. Some say he has a reputation as a bit of a prankster. More than anything, though, he is as intense as they come.
Article content
When crunch time hits, he has always been the engine that drives his teams, his coaches and teammates say.
Long ago, the guy who had those talents but who was also loudest in the room was often named the captain.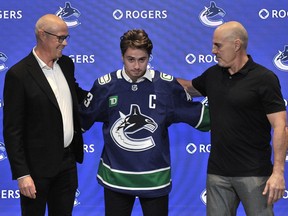 That is less and less a leading criteria for being a team's leadership focal point. In Hughes' case, presence remains at his core — but he's learned to accentuate it with well-chosen, well-timed words.
Bill Muckalt, who coached him at the University of Michigan for two years, isn't surprised his former charge has been tabbed to be a leading face for his first NHL team.
"We went as he went," Muckalt told Postmedia over the phone from Ann Arbor, Mich., about Hughes' leadership qualities, already evident at age 18.
Article content
Hughes didn't have to talk, he would set the tone just in his play alone, Muckalt said.
Your best players are who the whole team looks to in crunch time. Their success (or failure) in those moments sets the tone.
"You're going to live and die at critical times with your best guys. He's extremely competitive and he backs it up," the former Michigan associate head coach said. "I never played with Nicklas Lidstrom, but he just had a calm demeanour. Everything people have told me about Lidstrom, Hughes reminds me of him."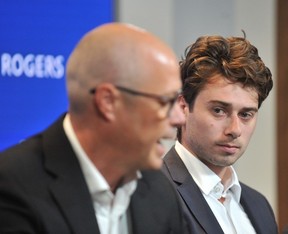 Hughes says that getting a letter on his jersey hasn't really changed who his is that much.
"I'm going to always be who I am. I think that's a big reason why they want (the captaincy) to go with me, is they know that I'm not going to try to be someone I'm not and that just won't come out authentic," he said.
Article content
"Whether I was the 'C' or not, I still would have tried to push guys up the mountain here and make sure that you know things are competitive and that everyone's dialled in on their stuff."
Bruce Boudreau, who coached Hughes for a little over a year with the Canucks, also wasn't surprised to see Hughes named captain.
Hughes' apparently instinctual harnessing of the power of presence reminded Boudreau of a pair of team legends: "That's how the Sedins led, right?"
J.T. Miller says that above all else Hughes' success as a leader is about his actions, although more and more the 23-year-old has also found his way with words.
"It's not all about talk. There's different captain's out there. Quinn and I are completely different people," Miller, who has a reputation for being bombastic at times, acknowledged. "It's just who he is as a person on and off the ice. He leads by what he does. He's come a long way in the regard of accountability and talking with teammates. He's very dialled in and we couldn't be happier to have who we have as a captain. And he's just going to get better and better as a captain.
Article content
"He's just 23, but he feels like a mature presence," added Miller, who joined the Canucks in 2019, just a few months after Hughes. Hughes' power is built out of his consistency.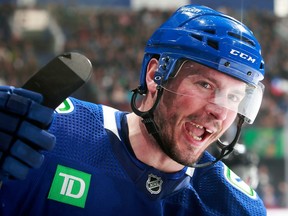 "You play that consistently you play nine out of 10 nights,"he said. "He's one of those guys. Maybe he has one out of 10 where he's just not at his best — and even at that it's not that bad. People notice that."
What he thinks Hughes has discovered is his own consistency adds weight to what he has to say.
"He can say 'hey,' to a teammate, 'get your shit together.' Like 'let's go, get on board here,' Miller observed. "It's going to mean a lot coming from a guy that's not only the captain but one of the better players in the league and one of the most consistent effort players from head to toe. It means a lot and he's made tons of strides in that area."
Article content
Phil DiGiuseppe is a Michigan alum. Being six years older than Hughes, the young defenceman was a player he first knew only by reputation.
When DiGiuseppe would go back to campus, he'd hear chatter about the young blueliner whose dad had been an NHL coach.
"I'd go back in the summer and guys were talking about him. And obviously being an alumni you hear about special players coming up. You know: Beniers, Fantilli. Hughes he was one of those guys, who you're just waiting to see what he can do," he said.
Now that he's been his teammate off and on for two years, he's seen a player who leads by performance, who has come to understand how what he does carries resonance.
"I think he's gonna grow from it, too. It's a special responsibility. And, you know, I'm confident he's gonna do a good job," DiGiuseppe said.
Article content
In the half-season he has experienced Quinn Hughes, Canucks head coach Rick Tocchet has seen an already confident player really find himself as a leader.
"He's just eager to go. Like I've almost got to get him to relax a little bit he wants to get going so much," Tocchet said with a grin.
"He just takes the game. He loves the game. And he's a well-liked guy in the locker room," he said. There's still some learning to be done, though.
"His next level with practice is if it's dragging a little, he' got to make the pace. He's the guy that we're all looking for. But also not just him, you know: Miller and Petey, all those guys."
---
MARTIN CLAIMED — Spencer Martin, who started last season as the Canucks' backup goalie but who finished the year in the AHL and then started training camp last week as the team's No. 4 goalie behind Thatcher Demko, Casey DeSmith and Arturs Šilovs, was claimed off waivers by the Columbus Blue Jackets on Friday. Martin will battle to start the season as the Blue Jackets' backup — nominal backup Daniil Tarasov is sidelined with a knee injury — while the Canucks have now eased a goalie log jam in AHL Abbotsford, where it's likely three goalies will still start the season: top prospect Šilovs, AHL veteran Zach Sawchenko and Belarusian project Nikita Tolopilo.
Article content
Recommended from Editorial
Kraken 3, Canucks 1: Vancouver's pre-season lurches forward

Canucks fan mailbag: Team depth, did Tocchet learn something in Calgary, and Höglander's role
---
Bookmark our website and support our journalism: Don't miss the news you need to know — add VancouverSun.com and TheProvince.com to your bookmarks and sign up for our newsletters here.
You can also support our journalism by becoming a digital subscriber: For just $14 a month, you can get unlimited, ad-lite get unlimited, ad-lite access to The Vancouver Sun, The Province, National Post and 13 other Canadian news sites. Support us by subscribing today: The Vancouver Sun | The Province.