Another look at Brock Boeser's four-goal effort on opening night
Get the latest from Patrick Johnston straight to your inbox
Article content
From the moment Brock Boeser arrived in Vancouver, the standard was set: when would he hit 30 goals?
Article content
To date, he hasn't.
Article content
Last year, he vowed he would. Then things, as they always seem to for the likable winger, didn't go to plan. He broke his hand a day after declaring that this was the year to score 30.
His injury was slow to heal. He didn't score his first goal for 12 games.
He was nearly a healthy scratch on Hockey Fights Cancer night. He essentially asked for a trade.
Then the new year came, the team got a new coach and he finally started to find his groove again. He still didn't score a ton of goals, but good things were happening when he was on the ice.
He ended the season with a career-high in assists, although he essentially posted the lowest-scoring season for goals in his career.
This season, he hasn't set a target for himself publicly. He said before training camp his only target was to prove himself every day to his teammates, to the fans, to the media.
Article content
But you have to believe 30 is in the back of his mind.
And after four goals in Wednesday night's 8-1 season-opening win for his Vancouver Canucks over the Edmonton Oilers, how could the target not be?
He only needs 26 goals now — over 81 games, that's just about one goal every three games.
With that target in mind, here's a look at some Boeser numbers:
---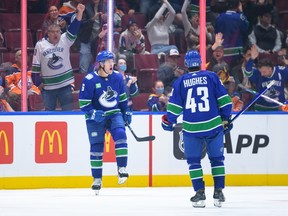 0.36
Over the course of his career, Boeser has scored 143 goals in 399 career games.
That's 0.36 goals per game … roughly a pace of one goal every three games.
Exactly the rate he needs to score at over the rest of the season to get to 30 goals on the season.
It's very, very doable.
83
According to the NHL's database, 83 of Boeser's 143 career goals have been scored using wrist shots.
Article content
Two of his goals on Wednesday were scored in this manner.
The first came after some hard forechecking by linemates Phil Di Giuseppe and J.T. Miller, who found his right-winger near the left faceoff dot. Boeser then wired a hard wrist shot just inside the right post, past a somewhat stunned-looking Oilers goalie Jack Campbell.
Boeser got all the flex in his stick, generating power by driving his legs past the puck and then whipping the stick and puck forward.
His fourth goal was technically a wrist shot as well, but it was a tap-in of a rebound, picking up loose change around the Oilers' crease after Stuart Skinner, who came into the Edmonton net in relief of Campbell, spilled Quinn Hughes' shot from the side boards right in front of Boeser, who tapped it in for an easy goal.
Article content
1
Boeser's second goal was him knocking the puck out of the air and into the Oilers' net.
The NHL has, smartly, added a new category of shot this year: "Bat."
In other words, when a player scores by doing exactly what Boeser did.
Before this season, they didn't have this category, although we've seen him do it before. Wednesday night was the first time he did so in official terms.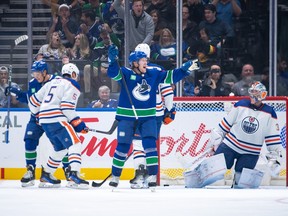 6
Over his career, Boeser has scored just six times by deflecting the puck.
The NHL calls any credit or shot that comes off a player's body a deflection, whereas a shot or goal that happens because the player redirected the puck with their stick is termed a tip.
Boeser's hat trick goal, an Elias Pettersson pass attempt that deflected off Boeser's right foot wholly unintentionally, was a case in point.
Boeser has 10 goals off tips in his career.
4
Wednesday was the fourth hat trick of Boeser's career, but the first in four years.
He last tallied three goals in a game Oct. 30, 2019 in Los Angeles versus the Kings.
He was 22 at the time and only Pavel Bure (5) and Tony Tanti (4) had recorded more hat tricks before the age of 23 for the Canucks than Boeser.
Article content
10
Nine NHLers had scored four goals in their team's season-opening game before Boeser.
Remarkably, two of those nine were also Canucks: Greg Adams in his first game as a Canuck had four goals against the St. Louis Blues — the Canucks won 8-2 — on Oct. 8, 1987.
And Rick Blight scored four goals for Vancouver in a 9-5 loss to the Pittsburgh Penguins on Oct. 6, 1976.
Blight's feat was the first time in 54 years someone had scored four times in their team's opening game of the season: the previous player before him was Babe Dye for the Toronto St. Patricks, Dec. 16, 1922.
Three players scored four goals on the NHL's very first day of action full-stop, Dec. 19, 1917: Harry Hyland had four goals for the Montreal Wanderers, who beat the Toronto Arenas 10-9; the Arenas got four goals from Reg Noble.
The third to score four on the NHL's inaugural day was Phantom Joe Malone, who led the Montreal Canadiens to a 7-4 win over the Ottawa Senators.
Recommended from Editorial
Canucks 8, Oilers 1: Brock Boeser's career-high four goals good for the soul

How the Canucks called up Jack Studnicka — cap-hit-free