The Vancouver Canucks are looking to fill out their fourth line and two notable names are on the outside looking in
Get the latest from Patrick Johnston straight to your inbox
Article content
As pre-season practices go, Tuesday's early session for the Vancouver Canucks at the University of B.C.'s Doug Mitchell Thunderbird Sports Centre were as conventional as they go.
Article content
The players skated hard, worked on their breakouts and zone entries, then dialed in practising their power play.
Article content
But two players were notably absent: wingers Vasily Podkolzin and Dakota Joshua.
After the Canucks' main group finished practice, a second group took the ice, players who will most likely fill out the Canucks' AHL roster.
Both Podkolzin and Joshua were included in the group, a clear statement about how the coaching staff feels about their situation at present.
Canucks head coach Rick Tocchet took time at the end of Tuesday's second practice to have a long chat with Podkolzin on the ice. They were joined for a time by Sergei Gonchar, the Canucks' Russian assistant coach.
The conversation was amicable and the tone Tocchet used to explain his feelings on Podkolzin being handed an obvious demotion were very kind in presentation.
Article content
"For Podzy, he's working his butt off, but he's just trying too hard, some of his reads. We got to make sure we dial that in. Sometimes we need to take a step back," Tocchet said.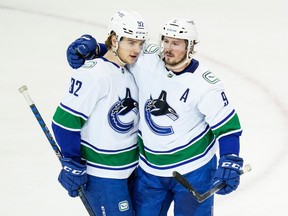 He wants to see Podkolzin simplify his game, to just play what's in front of him.
But his reply about Joshua was blunt.
"And Dakota, he's got to pick it up. That's it, quite frankly," he said firmly. And then he said something that surely means only one thing:
"I'm not going to go into some other factors, but he has to, he's got to try to win a job."
In other words, if you're wondering how Joshua did on his fitness testing, you're not alone.
"The job is not there. There's guys breathing down that want jobs. And whether it's a message or not, there's a lot of other factors I'm not going to get into but yeah, he's got to pick it up."
Article content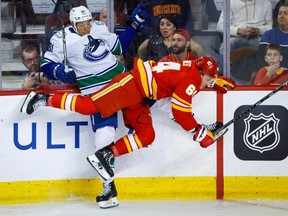 Phil Di Giuseppe took Podkolzin's place in the main group, skating on left wing with J.T. Miller and Brock Boeser, while Nils Åman, Teddy Bleuger and Jack Studnicka were put together as a could-be fourth line trio.
Tocchet praised Di Giuseppe and also the work that Åman and Studnicka have put in so far at training camp.
"They were so good for us last year," he said of the Di Giuseppe-Miller-Boeser line, when they played together.
"Millsy is a type of player, you help him out on the forecheck … they got a lot puck possession numbers last year. Huge. And I want to see them together," he said. "Those two guys (DiGiuseppe and Miller) were a menace on the forecheck and then Boes can do his thing. I like that chemistry. I really do. Whether we keep it all the time, we'll see. Like I said sometimes you can interchange parts."
Tocchet said Åman was in the top three in the team's pre-camp fitness testing.
"He came in bigger, he's been skating hard, he deserves the opportunity to be in that situation. There's still two weeks away, but I'm a big fan of him," the coach said. "I think Studnicka deserves a shot to practice with that group. They look fast out there. And they can check."
"There's a ways to go but if that line can develop it's obviously easier for me to have that kind of line to manoeuvre."