It's about more than just the 10-0 score line: it's how bad the Vancouver Canucks' process was on Sunday versus the Calgary Flames
Article content
Sure, Sunday's 10-0 loss by the Vancouver Canucks to the Calgary Flames was just pre-season.
Article content
And, sure, the Canucks sent a lineup filled with youngsters and depth players while the Flames had a lineup that featured a number of big names.
Article content
In many respects the Canucks sent out an AHL roster against an NHL squad.
The talent disparity does need to be put into consideration — but it's still hard not to sit back and contemplate what such a score line means. Losing by 10 in any game is a rarity. The Canucks haven't lost by double-digits since 1984.
Their worst loss since then was by nine in 1996; John Tortorella's Canucks lost by eight in January 2014.
The Canucks' kids on Sunday are in special company. Should head coach Rick Tocchet have dressed a stronger lineup on Sunday? Probably. But he also would have expected more from the players who did dress.
Article content
Instead of strong performances, even in defeat, there were a lot of concerning signs, players who either weren't prepared or truly aren't up to snuff. Whichever it was, neither can become a trend, for player or coach.
Here's a few things to really think about that came out of Sunday's loss:
---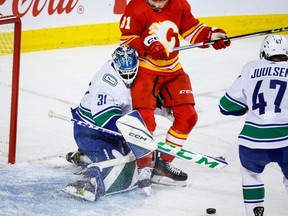 Šilovs' reality
Their goalie — Arturs Šilovs — faltered badly giving up unlucky goals but also goals he made mistakes on or didn't see at all. Did he deserve to stay in net for seven goals against? Maybe not, but in the first game of the pre-season a coach has a plan and that's mostly centred on players just getting up to game speed, results be damned.
But, again, these results are hard to ignore.
Šilovs' game was a far cry from the heroics he pulled off the last time he was on the ice, when last spring he guided the Latvian national team to glory, winning bronze and being feted as a national hero.
Article content
Is Šilovs the goalie who looked lost on Sunday? Almost certainly not. But the skeptic would note that it's also very possible he's not quite the goalie who performed so admirably in his national colours.
He's still a good prospect. One game doesn't make a future.
---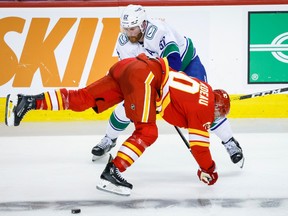 Defensive depth
On the other hand, there's the pairing of Jack Rathbone and Jett Woo. Neither had a good night.
• Rathbone has already fallen well down the left-side depth chart. And as good a character as he is, his on-ice performance is what the Canucks' coaching staff need to assess, And, going back to his five-game cameo late last season, what Tocchet and his assistants, Adam Foote and Sergei Gonchar, have seen is a blueliner who struggles to defend and make puck decisions at an NHL pace.
Article content
He's been good in the AHL. It more and more looks likely he just isn't up to NHL snuff. Rathbone was one of the Canucks' more experienced defenders on the night. He didn't look like it.
• Woo's statistics line was ugly on Sunday, going minus-four (not the minus-five listed on the scoresheet, because the scorekeeper wrote down 44 when it was Akito Hirose, No. 41, on the ice for the sixth goal against). Woo struggled with positioning at times and was burned badly defending Nazem Kadri on a neutral zone rush, leading to a goal.
Woo has dreams of playing in the NHL this season, but, on this performance, he has a long way to go.
• A third blueliner on the roster bubble who did little to help his case was Noah Juulsen. The veteran right-shot defenceman got first crack to skate with Quinn Hughes in training camp, but he's far from the front-runner and, after Sunday, he's got a lot of work to do to keep himself in the mix.
Article content
He got beat badly by Jonathan Huberdeau and Kadri on goal-scoring plays for each — and if he's going to make the NHL squad it's likely as Hughes' partner, and he would be facing forwards of this quality all the time.
---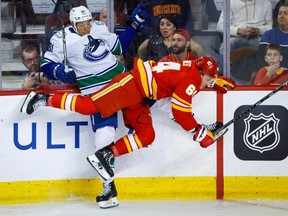 Penalty killing
It's an old refrain now, but the Canucks have got to find a way to kill penalties with consistency.
However on first blush, the Canucks have a lot of work to do. Now, most of the players in the lineup on Sunday won't be NHL regulars this season, but outside of Woo, the guys deployed to kill penalties last night did all play in the NHL last year.
Dakota Joshua and Pius Suter should have fairly prominent roles on the penalty kill this season, Juulsen, Matt Irwin and Nils Åman maybe too.
This is to say: They should have had some sense of what they were doing Sunday night. They shouldn't have looked as hapless as they did in trying to keep the opposing power play to the outside.
Article content
They gave away seven shots in 5:11 of power play time, two of those for goals.
Their defensive scheme struggled to stay stable.
---
At least there's Höglander
Nils Höglander was just about the lone bright spot Sunday and his chances of starting the season as the left-winger on Elias Pettersson's line — Andrei Kuzmenko on the other wing — remain strong.
He was the best player on the Abbotsford Canucks at the end of last season and his task is clear: work hard, be aggressive on the forecheck and be responsible in his own end.
"He's just got to learn that you can't try to stickhandle through," Tocchet said Sunday. "Don't get frustrated and try to stickhandle through guys, you've just got to stay in yourself. That's the next level for him but I do like his effort."
Article content
Flames 10, Canucks 0: Have mercy — Canucks kids clobbered in first pre-season test

Canucks: Goaltender Ty Young gets signed, then gets cut
---
Bookmark our website and support our journalism: Don't miss the news you need to know — add VancouverSun.com and TheProvince.com to your bookmarks and sign up for our newsletters here.
You can also support our journalism by becoming a digital subscriber: For just $14 a month, you can get unlimited, ad-lite get unlimited, ad-lite access to The Vancouver Sun, The Province, National Post and 13 other Canadian news sites. Support us by subscribing today: The Vancouver Sun | The Province.