A 'revamped' Arshdeep Bains leads the AHL in points, goaltender Nikita Tolopilo starts strong in Abbotsford and Jonathan Lekkerimaki keeps scoring in the SHL
Article content
It's the latest edition of the prospects tracker, where we tally up the efforts of the Vancouver Canucks' highest profile prospects:
Article content
Arshdeep Bains
Tearing up the WHL as a 20-year-old is one thing.
Doing the same in the pros two years later is something else.
Eight games into the AHL season, Arshdeep Bains leads the league in points with 13 (3G, 10A) as the Abbotsford Canucks Winger's evolving game reaches new heights.
Bains, 22, has nine points in his last five games, including a three-point (1G, 2A), first-star effort in a 5-2 win over the San Diego Gulls on Friday.
Article content
For the Surrey product, the difference between junior and professional success is in the details.
Bains, who piled up 112 points (43G, 69A) with the Red Deer Rebels during the 2021/22 season, has completely revamped his game.
Bains was always a gifted scorer with elusive skating and above-average vision, then-head coach of the Rebels and former NHLer Steve Konowalchuk told the prospects tracker last April, but work needed to be put in away from the puck in order for the 6-foot, 183-pound forward to make the next step.
"That, to me, is a part of his game he's going to need to carry on to the next level, the tenacity, finishing checks in the American League so he has the puck more at that level," said Konowalchuk.

Bains has not only received the message from the Canucks since he was signed last spring, he was the one chosen by the organization to speak to the rest of the prospects in development camp this past summer, Abbotsford general manager Ryan Johnson told CHEK-TV's Donnie and Dhali show on Friday.
Article content
"It's incredible for a young man to make a decision, with the support of our staff … to revamp his game essentially after dominating the CHL," said Johnson.
"The message with Arshdeep was we wanted to basically strip down his game and build him back up before he even played a game in pro hockey."
The idea was to not limit Bains' offensive production, but to accentuate by developing a game more suited to the rigours of professional hockey. That meant "getting a lot of the junior habits out of his game and develop an all-around game, a forecheck into his game, responsibility in the D-zone, his wall play — all of those things that he bought into."
Article content
The results are a player who is a fixture on the penalty kill — as well as the power play — and is among the most-trusted of coach Jeremy Colliton's charges.
To watch Bains away from the puck these days is to watch a man on a mission. Aside from the obvious skills and vision with the puck, he hustles, is constantly in position to make a disruptive play and doesn't shy away from physical play away from the puck.
Bains may even have to dial it down at times, being penalized three times in the Canucks' home opener last week as he backchecked and battled a gritty Calgary Wranglers side.
And Bains' playmaking ability cannot be understated. Seemingly playing with eyes in the back of his head, Bains can throw a no-look spinning pass with the best of them, as he did in Sunday's 5-3 loss to the red-hot Ontario Reign to set up centre Sheldon Dries for the Canucks' opening goal.
Article content
To start last season, he was a nice story for the locals: a skilled hometown kid who signed with the team he cheered for growing up.
This season, the conversation has changed. Bains is a legitimate call-up option for a new-look Vancouver team where being a passenger is no longer an option.
"He's putting himself in the conversation to get an opportunity to play in the NHL here," said Johnson.
The Abbotsford Canucks are 5-2-1-0 and in second place in the 10-team Pacific Division.
---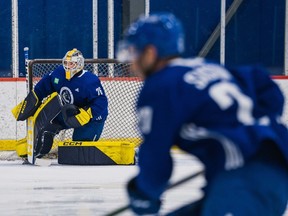 Arturs Silovs vs. Nikita Tolopilo
One of them has a solid 2-1 record and one of the better save percentages in the league.
The other is the presumed starter.
After earning accolades last season as the AHL player of the month for February, becoming the IIHF World Championship MVP this past summer — with a respectable 3-2 showing in Vancouver sandwiched in between — this season was supposed to be the Arty Party in the Abbotsford crease.
Article content
Instead, a giant Belarusian is too busy stopping the puck to notice what the other guy is doing.
"I don't really think about other goalies, honestly, I just try to focus on myself and do my best every day, every game," backup goaltender Nikita Tolopilo told Abbotsford play-by-play man Brandon Astle in an interview on Tuesday. "But I think our relationship is pretty good, both of us try to bring something to the team and of course we compete for a spot."
That competition is quickly heating up as Tolopilo, 23, was sensational in his second start on Tuesday, a 2-1 overtime win over the Colorado Eagles in which the 6-foot-6 goaltender stopped 34 of 35 shots en route to a first-star performance.
Article content
Tolopilo had to be good early in Tuesday's triumph. The Eagles fired 10 shots at the Abbotsford net in the first six minutes of the game and Tolopilo had to make a top-notch save with his left pad on a point blank chance later in the period. He even made a save with centre Sheldon Dries' stick, after losing his moments earlier in a scramble in front.
The win follows an impressive victory in his debut two weeks ago, where Tolopilo stopped 41 of 44 shots in a 4-3 win at Laval.
The Canucks expected Tolopilo to be good when they signed him this past off-season. The Minsk product was the best goalie in Sweden's second-tier Allsvenskan last season, posting 2.10 goals-against-average and a .910 save percentage.
He was courted by the organization, with Canucks scout Mikael Samuelsson knowing the player from his time spent as Sodertalje's general manager.
Article content
But it was ultimately goalie coach Ian Clark's philosophy and the tutelage of his staff that ultimately landed the free agent.
Tolopilo's philosophy is simple: "Just stop the puck," he said.
"Simple. Just try to play calm and give confidence. Not only for myself, but for the team that they say 'OK, this guy can help us."
Article content
Silovs, meanwhile, has been no slouch to start the season, but his numbers aren't adding up the way they did last campaign.
The 22-year-old Latvian has gone 3-1-1 with a 3.63 GAA and a .882 save percentage, although he has only given up two goals in each of his last two starts, both wins.
Article content
You do wonder what effect a 10-0 clobbering against a loaded Calgary Flames side in a Sept. 24 NHL pre-season game had on Silovs' psyche, who was pulled after giving up seven goals on 18 shots — many of which he had no chance on in front of an overmatched team of prospects.
After giving up a weak goal in a 5-2 win on Wednesday night — the same game in which winger Vasily Podkolzin was hospitalized on a questionable hit along the boards — Silovs took matters into his own hands, skating out of his crease and sending a long-bomb pass to a streaking Linus Karlsson for a pretty primary assist.
Article content
As for Tolopilo, he was good but not great in Sunday's 5-3 loss in Ontario, giving up goals on two deflections, as well as on a point blank opportunity to lose his first game of the season.
The calm yet colourful character says he'll continue his routine of waking up, going to the rink and maybe catching dinner with "the Russians" before doing it all over again the next day.
"It's nothing yet. I just do my job. I try to do it the best as I can."
---

Jonathan Lekkerimaki
We're running out of ways to describe just how good Jonathan Lekkerimaki has been this season.
The Canucks' 15th overall pick in 2022 scored another goal this past week — his eighth of the young SHL season — and this one was the most impressive of the bunch.
Lekkerimaki scored his wunder-goal in Saturday's 3-1 loss against Frolunda, with the dynamic 5-foot-11, 172-pound right-shot forward taking the puck at centre ice and doing the rest, making a gorgeous move to his backhand around a defender then finishing on his forehand to send the Orebro crowd into orbit.
Article content
Lekkerimaki finished the game with two shots on goal in over 20 minutes of ice time as the 19-year-old blue-chip prospect sheds the bust label from last year.
The way this is going, there'll be no leaving Lekkerimaki off the list of top prospects not playing in the NHL anymore once this campaign is over.
The Huddinge native — with his quick feet, quick hands and laser-like shot — leads the SHL with eight goals in 14 games.
---

Hunter Brzustewicz
Hunter Brzustewicz has played in 13 games for the Kitchener Rangers this season.
The right-shot defenceman has at least a point in all of them, other than the season opener a few weeks ago.
You do the math on just how explosive the 18-year-old has been from the blue-line this season.
Brzustewicz, 18, continues to lead the OHL in points with 25 (5G, 20A) after registering five assists in three games this past week.
Article content
The Canucks' 2023 third-rounder's best game was a three-assist effort in a 5-4 overtime win against the Erie Otters on Friday.
His worst? A 5-3 loss to the high-powered Owen Sound Attack in which Brzustewicz managed an assist but went a minus-3 in the loss.
Still, the 6-foot, 190-pound smooth-skating D-man has been a revelation this season and surely has an inside track to make Team USA at the World Juniors in Sweden starting on Boxing Day.
---

Sawyer Mynio
Back into the lineup and straight into the pressure cooker.
After a three week absence due to injury, left-shot defenceman Sawyer Mynio rattled off five games this past week for the Seattle Thunderbirds, even scoring a goal and adding an assist in his first game back last Sunday in a 6-2 win over the Edmonton Oil Kings.
Article content
"The puck went to (Eric) Alarie and I went to an open area. He found me with a nice pass. Lots of traffic in front of the net. I got it through, and it went in," Mynio, 18, said post-game.
"I felt really good after missing three weeks. It felt really good to be back on the ice with the guys."
Mynio, a 6-foot-1, 172-pound D-man the Canucks took in the third round this past summer and promptly signed to an entry-level deal after showing well at training camp, is a capable defender who skates well and can eliminate forecheckers on the rush.
The Kamloops native is skating on the Thunderbirds' top pairing this season and has four points (1G, 3A) and a plus-1 rating in six games this season.
---
Elsewhere: Abbotsford forward Aidan McDonough (2018, Rd. 7) scored his second of the season on Wednesday, as the 23-year-old continues to get several Grade-A chances a game.
Article content
Also, big forward prospect Vilmer Alriksson (2023, Rd. 4) upped his season goal total to six this past week after the 18-year-old tallied twice in three games for the OHL's Guelph Storm.
Article content
And forward Danila Klimovich (2021, Rd. 2), who was scratched for Abbotsford's home opener last Friday and hasn't dressed since, is nursing an injury, coach Colliton confirmed earlier this week.
Recommended from Editorial
Canucks prospects: Klimovich scratched, boom times for Brzustewicz and Lekkerimaki

Canucks: Early signs positive in Vasily Podkolzin's concussion recovery