The puck has dropped for junior hockey in North America and Canucks prospects have been dialed in early
Article content
How do you like them apples?
Article content
Vancouver Canucks 2023 third-rounder Hunter Brzustewicz tallied four assists for the Kitchener Rangers on Saturday in an 8-0 win dismantling of the Flint Firebirds.
Article content
The 18-year-old right-shot defenceman also went a plus-3 with one shot on goal and was named the second star of the game.
Brzustewicz, whose game touts poise, good puck movement and the ability to jump up and read the play, is skating as the Rangers' 1RD and is running the first unit power play.
The product of the renown U.S. National Team Development Program had two impressive assists in the win, threading a perfect cross-crease pass to Mitchell Martin for a tap-in early in the third period, then hitting Trent Swick in stride to split the defence and score on a power play breakaway later in the frame.
Article content
The Rangers opened the OHL regular season on Friday with a 4-3 win over a strong Saginaw Spirit side. Brzustewicz went a plus-1 with two shots on goal in the win.
Brzustewicz was projected as a second-round pick after a strong season with the Rangers last campaign. He placed seventh among defenders with 57 points and sixth with 51 assists.
The Rangers have four NHL draft picks on their roster this season, including Carson Rehkopf (Seattle), Matthew Andonovski (Ottawa), Tomas Hamara (Ottawa) and Brzustewicz.
---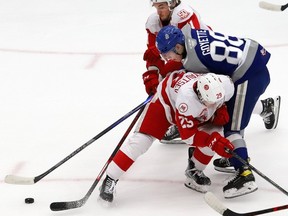 Kirill Kudryavtsev
This guy is going to be a problem this season for his OHL opposition.
The Brantford Bulldogs can attest to that after Saturday.
Canucks prospect Kirill Kudryavtsev had an assist, a plus-3 rating, three shots on net and scored a big goal for his Soo Greyhouds against the Bulldogs, sparking a 7-5 comeback win and leaving the Brantford coach scratching his head post game.
Article content
Kudryavtsev, a left-shot D-man playing the right side on the top pairing, scored the crucial 5-4 goal early in the third period to get his team back into the game.
Article content
"When we scored early in the third period that got them on their heels," said winger Jake Beck.
Bulldogs head coach Jay McKee also spoke to the significance of Kudryavtsev's goal.
"Their D-man was wide open and that goal gave them life," he said. "That was a shot we probably needed a save on."
Kudryavtsev, 19, was named the game's third star for his effort.
The 6-foot, 201-pound defender kicked off his season on Friday, notching two assists, a plus-2 rating and three more shots on net in an 11-4 win over Flint.
Article content
Kudryavtsev has been an offensive force for the Greyhounds for over two seasons now, tallying 89 points (13G, 76A) in 135 games. He can break the puck out of his zone cleanly and his puck skills make it hard to force turnovers from him.
But it's the improvement in his defensive game that shone through last season and at Canucks development camp this past summer. Kudryavtsev plays with an edge, tracks the play well and has an active stick.
He is originally from Yaroslavl but moved to Ontario when he was 17 ahead of his 2022 draft year, in which the Canucks took him way back in the seventh round.
The Canucks signed the Russian defender to a three-year entry-level contract in March.
---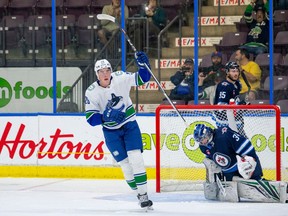 Vilmer Alriksson
Now that's what the Canucks want to see.
Article content
Vilmer Alriksson, all 6-foot-6 and 214 pounds of him, went hard to the net and was rewarded with his first OHL goal on Saturday in a 4-2 win over the Windsor Spitfires.
Article content
Alriksson, 18, had two shots on goal and a minus-1 rating in the game.
The giant left-shot winger is skating on the Storm's second line, and had a plus-1 rating and one shot on goal in a 4-2 win over the powerful Owen Sounds attack on Friday — Alriksson's first regular season game in North America after player junior hockey in Sweden last season.
The Enebyberg product was more of a finesse-type player last season, with the Canucks preaching patience with a player they'd like to mould into a power forward who plays a two-way game.
Elsewhere: Boston University is set to start their NCAA season on Saturday, but are expected to be without Canucks 2023 first-rounder Tom Willander for the first two games, since he played professionally in Sweden already.
— with files from Ben Kuzma and Patrick Johnston
Recommended from Editorial
Canucks prospects: Lekkerimaki 'more explosive, faster and bigger' in bounceback season

Canucks prospects: Pipeline starting to flow ahead of new season