"It really kept me in the loop and I feel like I'm going to be lost without it now…. Kind of a shocking day," said one fan.
Article content
The news arrived quietly, but those who saw it reacted with great shock.
Article content
The Vancouver Canucks are shutting down Canucks.com's two-decades-old fan forums.
Article content
In a message that fans first started noticing late Friday, roughly around the end of the Canucks' 7-1 win over the Calgary Flames at the Young Stars Classic in Penticton, the site's administrators revealed that the forums would be closing at the end of September.
Here is the message:
"Dear Canucks fans and forum users,
"We want to thank you for your passion, your millions of posts and your interest in our team and this site. It has been an incredible journey and an entertaining experience. Unfortunately, the time has come to shut down this forum and turn the page on what has been an incredible novel to read. It will remain active until the end of the month and be closed October 1st.
Article content
"Be sure to follow us on social media and download our mobile app for breaking news and content on your Vancouver Canucks. We also look forward to seeing you at Rogers Arena this season.
"Go Canucks Go!"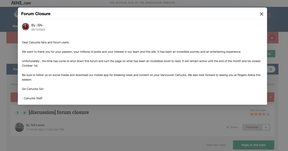 Why the time has come to shut down the forums wasn't immediately clear and the Canucks have been asked for further comment.
Known officially as "Canucks community forums" but known colloquially by the acronym CDC — for "Canucks Dot Com" — the forums first came online in 2003 and quickly became one of the most vibrant sites for discussion about the province's favourite pro sports team.
At times, the volume of traffic on the forums alone would put the Canucks' website at No. 3 across the entire NHL, behind only the site for the Toronto Maple Leafs and Montreal Canadiens, former staffer Ryan Nicholas told Postmedia.
Article content
And from time to time, senior executives of the team would push to shut down the message boards, often because they'd come across a thread critical of the team, but the team's digital staff always pushed back, saying that the community it provided, shown in the high number of page views, brought the team far more overall value, he added.
"It was the first space where I found my voice as a Canucks fan. I remember joining in '03 when i was in grade five. For a long time it was the only place for the Canuck fan community until Twitter took off," fan Arpan Parhar told Postmedia on Saturday.
"If you are a diehard millennial Canucks fan, there have been a few moments in the last few years to remind you your childhood is dead. Sedins' retirement was one of them. CDC closing is another."
Article content
For Garrett Milne, CDC was a way to connect with fans who live all across the province. He lives in Kitimat.
"Been on the forums since around 2009, never had an account, never got into any of the drama. It was just the best place to get all the news and signings first, great place to read articles and watch videos of prospects," he said in a message to Postmedia.
"It really kept me in the loop and I feel like I'm going to be lost without it now…. Kind of a shocking day."
He always preferred to go to CDC for how it kept everything in one spot, instead of having to navigate his way through the chaos of Twitter.
"Instead of scrolling twitter trying to find every hilight or interview from different reporters, the forum was one centralized place where each player and prospect had its own thread, making it easy to see clips of Euro prospects and the NCAA guys," Milne added. "Of course there would be idiots on there trying to cut the team down, yadda yadda, but for the most part it just seemed like dedicated Canucks fans who wanted to talk hockey and share opinions."
Article content
Posters at CDC also started a number of threads lamenting the loss of their forum, both to vent and also to recall the good times.
"I mean mine and I'm sure a lot of other people's favourite has to be the, 'Burrows? Do we really need him?' Thread. That thread will always be iconic, always made me laugh when I needed it," a poster named Apricot wrote.
"The guy who was on a date, and the toilet backed up, and went to CDC for advice," wrote TheGhostof1915.
"Raymond, Ballard and a 2nd," quipped Billabong, with a joke about the long-standing love fans have for posting their own trade proposals, which are often structured around a player they don't like, a player they think has little playing value, plus throwing in a draft pick.
Article content
Wyatt Arndt is one of the more popular Canucks writers of the past decade, but first found his voice posting to places like CDC.
"Before twitter, the place to talk Canucks hockey WAS the Canucks.com message boards," he said in a text message to Postmedia. "Today people go to Twitter but back then we all filed into the game day thread to hang out together and yell about hockey."
With the rise of Twitter, Youtube and Reddit, the CDC forums have declined in prominence, but for many years it was the only real outlet for fans to gather online.
"It was the first place I wrote essay long posts about hockey and the first place I got feedback on my writing. It was honestly the place that made me think to myself I wanted to become a writer. Without CDC I might not have a sports writing career. It allowed me to test out my writing in front of an audience and I also read a lot of other hockey opinions on there, which helped deepen and broaden the way I thought about hockey."
Article content
Other fans quickly set up a new unofficial site, where they hoped the vibe of the official site would carry on: forumcanucks.com.
Canucks: How Jett Woo found his way back to big-upside prospect

Canucks prospects: Lekkerimaki scores in first game of SHL season

Canucks: Why Ian Cole signed in Vancouver
---
Bookmark our website and support our journalism: Don't miss the news you need to know — add VancouverSun.com and TheProvince.com to your bookmarks and sign up for our newsletters here.
You can also support our journalism by becoming a digital subscriber: For just $14 a month, you can get unlimited, ad-lite get unlimited, ad-lite access to The Vancouver Sun, The Province, National Post and 13 other Canadian news sites. Support us by subscribing today: The Vancouver Sun | The Province.