The Vancouver Canucks play four of their six pre-season games this week. There's a lot to consider with 2.5 weeks still to go before the regular season.
Article content
When the Vancouver Canucks' power play was humming in the 2022-23 NHL season, it was because Bo Horvat was dominating the slot as much as anything.
Article content
Playing in what is known as the bumper spot, Horvat deployed two particular weapons to great effect: fantastic hand-eye coordination to deflect pucks shot from the point, usually by Quinn Hughes, and also a ferocious one-time wrist shot, usually coming right off a perfectly-weighted pass off the side boards by J.T. Miller.
Article content
But Horvat is now a New York Islander and the Canucks have to re-think things.
"Chapter's closed. Bo's gone. I mean we've got other good players who can fill in or we can do other plays," Elias Pettersson said this week at training camp in Victoria.
"I think I can score from all positions out there. But it comes down to us at the end of the day. We want to score whenever we get a power play and if that's me being net-front or half wall, etc., it's something we'll have to look into."
Article content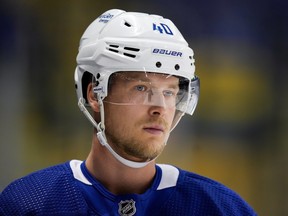 Creative thinking will be the solution.
And on Saturday, the Canucks gave their first look at how creative they might be on the power play this season.
The first unit featured the five you would expect: Quinn Hughes as the lone defenceman, J.T. Miller as the faceoff man, with Elias Pettersson, Brock Boeser and Andrei Kuzmenko rounding out the quartet.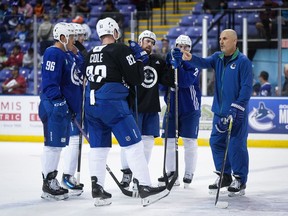 But after that, things got a little…rotational, let's just say.
Hughes was usually on the point and Kuzmenko was usually net-front, a spot he filled with plenty of success last season.
But at times Hughes was spelled off by Pettersson, while Kuzmenko sometimes rotated out to the wing and either Boeser or Miller took over net-front. Boeser was often in the central bumper spot, but sometimes Miller was there, other times it was Kuzmenko.
Article content
When Pettersson wasn't on his wing, he also wasn't only at the point; at times he was playing below the goal line as a distributor.
"When they're moving, there's some pretty damn good goals out there," head coach Rick Tocchet said. "I'm a big movement guy."
Tocchet said he believes Boeser is the right choice for a power play that he is asking to be moving all the time, not getting static, and trying to create two on one situations down low.
"I think he enjoys this," the coach said of Boeser.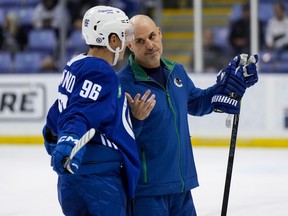 The second unit featured Filip Hronek on the point, with Pius Suter taking draws and wingers Conor Garland, Anthony Beauvillier and Nils Höglander completing the set.
In an interesting sign about his chances of making the team — more on that in a moment — Christian Wolanin spelled off Höglander at times to create a two-defenceman unit.
Article content
With the Canucks beginning pre-season Sunday afternoon in Calgary against Calgary, here are four other items to keep in mind, as the Canucks play six pre-season games over the next two weeks.
Lines
How much of a run will Höglander get with Pettersson and Kuzmenko? The job does seem to be his to lose, as no one else has skated on Pettersson's left wing throughout the first three days of camp.
He's been told to be a ferocious forechecker, to cause problems down low and create space for Pettersson and Kuzmenko.
And in similar terms, what about Vasily Podkolzin's play? He's been with Miller and Boeser so far.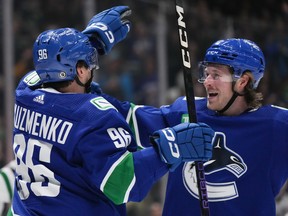 The directive to him has been to trust his skills, to not over think. To get up and down the ice and bring energy to the line, night in, night out.
Article content
Also, who ends up on left wing with Pius Suter and Conor Garland? Through the first two days of camp, Arshdeep Bains was skating there, though you wonder if he's a place holder for Ilya Mikheyev.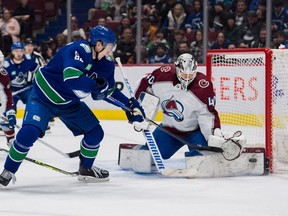 Mikheyev in action
Mikheyev missed the first two days of camp dealing with a personal matter back in Vancouver, but skated in a non-contact sweater on Saturday with the Canucks' AHLers.
Everyone seems to agree his timeline has him possibly being ready to play in the final two games of pre-season, but we'll see.
Tocchet said he expects his veterans will play in three or four of the six pre-season games, so even if Mikheyev gets only two games, he wouldn't be that far off his mates ahead of the season opener at Rogers Arena Oct. 11 vs. Edmonton.
Article content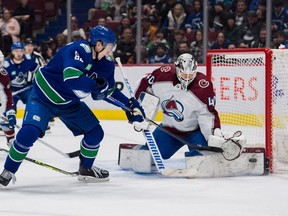 Quinn Hughes partner
A joke quickly developed at training camp: there are 20 defencemen in Canucks camp; how many will play with Quinn Hughes?
The Canucks captain needs a partner. Tocchet said he'd like that partner to be a right-shot defenceman, but there aren't many real options. Noah Juulsen was up first, off his experience playing with Hughes last season. Carson Soucy, a left-shot blueliner who has experience playing on the right side, was Hughes' partner on Friday.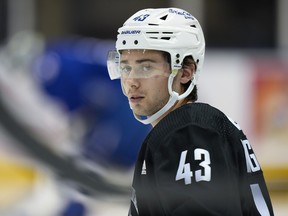 Filip Hronek shoots right so he could play with Hughes, but you suspect the Canucks would rather use him to hold down a second defence pair, given he likes to have the puck on his stick as much as Hughes does.
Tyler Myers also shoots right and has played with Hughes, but he seems destined for the third pair.
Article content
Who will defencemen 6 and 7 be?
Given how their salary cap is now set up in the wake of Tanner Pearson being traded, it appears most likely the Canucks will start the season with a 22-man roster, with a spare forward and a spare defenceman.
If you assume Hughes, Hronek, Soucy, Myers and Ian Cole will be in the Canucks' starting lineup, then there are still two spots, maybe three if they find a way to keep two blueliners.
There are a bevy of options:
• Juulsen knows Hughes, but is a career tweener, not quite good enough to hold down an NHL spot, but one of the better blueliners on your AHL squad.
• Matt Irwin played 60 games for the Washington Capitals last season but very much knows he's here as a depth guy who won't play every night.
Article content
• The left-shot Wolanin, as noted, has offensive chops and thus has an extra element he brings to the table. That's always a way to differentiate yourself from the crowd of options that accumulate at the edge of the roster.
• Guillaume Brisebois spent some time with Myers at training camp and while his game isn't flashy, he has admirers in the organization for it being so simple. He seems suited to a future as a No. 7 defenceman.
But are the alternatives better?
• Jack Rathbone made the team out of camp the last two years, then sputtered and got sent back to the minors. He looks likely to start in Abbotsford this year.
• What about Akito Hirose? The team is high on him and he showed well in a late-season cameo, but is he really ready for the day-in, day-out rigours of pro hockey? Unlike all the other options here, he doesn't need waivers to be assigned to the AHL.
Article content
• Jett Woo is a right-shot defenceman who the organization hopes can take another big step forward, but is he really ready to play in the NHL? Same question goes for former Minnesota first-rounder Filip Johansson.
It's Garland vs. Joshua as Canucks training camp gets feisty

Canucks: Why Thatcher Demko thinks goalie Ty Young has a chance

Canucks: It's time for Nils Höglander and Vasily Podkolzin to step up to the plate
---
Bookmark our website and support our journalism: Don't miss the news you need to know — add VancouverSun.com and TheProvince.com to your bookmarks and sign up for our newsletters here.
You can also support our journalism by becoming a digital subscriber: For just $14 a month, you can get unlimited, ad-lite get unlimited, ad-lite access to The Vancouver Sun, The Province, National Post and 13 other Canadian news sites. Support us by subscribing today: The Vancouver Sun | The Province.