Quinn Hughes has been electric, Tyler Myers has not and the Canucks need to take control of their play.
Get the latest from Patrick Johnston straight to your inbox
Article content
When your season is only four games old, it's just about impossible to find any trend in an NHL team's game.
Article content
You can find hints of what might be to come, be they good — Brock Boeser scoring 30 goals  — or bad — being in the bottom third of the league in shot-attempts share — but as of yet, there are no firm conclusions.
Article content
It's not till 10 games in that the warning signs start to coalese; 20 games till the trends are just about locked in.
So with that in mind, here are a few numbers to consider as the Vancouver Canucks look to end a two-game losing skid Saturday in Sunrise, Fla. against the Florida Panthers.
ZERO
As in, that's how many goals against Quinn Hughes has been on the ice for.
The Canucks' captain has been electric with every touch of the puck.
Good things are happening up ice.
Sure, he's been a little lucky defensively, but you know what they say about being good.
Article content
Bottom line, Hughes is a bright spot for this team and will surely remain so going forward.

1184
PDO was once a number discussed with abandon by statheads.
It's not talked about like it was a decade ago, but it's still very relevant.
It's a simple measure of luck, where you add a player's on-ice save percentage and their on-ice-shooting percentage.
It's been proven that when a player is neither lucky — more goals have gone in for his team than they should — or unlucky — more goals have gone into his own net than they should — the save and shooting percentages will add up to 1000.
If a player is having a bad run of shooting luck or the goalie is on a stinker, their PDO will sink below 1000. And if the goalie behind them has been playing hot, or their getting some real puck luck, that number will rise above 1,000.
Article content
And generally one or the other components of the player's PDO will correct itself. That's how "regression" became a common word in hockey talk.
Tyler Myers' PDO is 1184. He has been incredibly lucky, especially in the scoring department.
At even strength, the Canucks have scored five goals while he's been on the ice, against just one against — the opening goal by Leon Draisaitl last Saturday night — a true run of good luck given how badly the Canucks have been outshot while he's been on the ice.

His PDO is only exceeded by all three members of the fourth line: only Nils Höglander has been on the ice for a goal against, though he and Sam Lafferty and Jack Studnicka have been out-shot 2-1 while they've been on the ice.
Only one defenceman has given up shot attempts at worse rate than Myers, Noah Juulsen, who has been bumped down to No. 7 status after the acquisition of Mark Friedman.
Article content
Myers' big gaffes on Thursday night both came with him killing penalties.
It's going to get ugly when his luck runs out at even strength.
0.36
That's Brock Boeser's career per-game goal scoring rate.
He now has five goals in four games. There are 78 games left in the season. To get to 30 goals, he needs 25 more.
That would mean scoring 0.32 goals per game.
It's very, very doable for the veteran winger.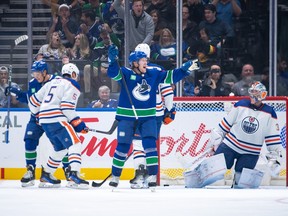 44.6
The Canucks have taken less than half of the even-strength shot attempts in the totality of the four games they've played so far.
It was a well-understood principle that teams that outshot their opponents tended to win more than they lose.
Last season, some preliminary analysis by hockey data analysts Cam Charron — he is now back in the NHL, working for the Pittsburgh Penguins — found that this might not be as true as it once was, now that teams have a better understanding of what shots matter — from the slot, close to the net — and what shots don't.
Article content
But still, there's value in understanding who has possession.
The Canucks talk a lot about possession.
It matters because chasing the puck is more taxing physically. And it gives your goalie a break too.
And if the plan is not to lean on the goalie as much, you'd rather be in the offensive end, not the defensive end.
As it stands, the Canucks are in the bottom third of the league by this metric. They need to be in the top half of the league if they're going to have a realistic chance at the playoffs.

16
Let us finish on a happy note: Hunter Brzustewicz, Canucks defence prospect, has 16 points in 8 games for the Kitchener Rangers so far this season.
The kid can dish the puck.

Article content
Recommended from Editorial
Lightning 4, Canucks 3: Vancouver's good road game sunk by brutal second period

Canucks: Stan Smyl changes roles, with no regrets

Canucks: A 'little bit of shock' for Jack Rathbone, hope for prospect pipeline
---
Bookmark our website and support our journalism: Don't miss the news you need to know — add VancouverSun.com and TheProvince.com to your bookmarks and sign up for our newsletters here.
You can also support our journalism by becoming a digital subscriber: For just $14 a month, you can get unlimited, ad-lite access to The Vancouver Sun, The Province, National Post and 13 other Canadian news sites. Support us by subscribing today: The Vancouver Sun | The Province.