The Canucks shored up the centre ice position on Friday by signing Pius Suter, but they're back in a cap crunch and a trade seems likely.
Article content
Pius Suter adds to the Vancouver Canucks' forward depth, that much is clear.
Article content
He's a strong penalty killer and was a positive defensive presence at even strength as well for the Detroit Red Wings, a team that was otherwise pretty poor in their own end last season.
Article content
The Canucks now clearly have a third-line centre for the 2023-24 season.
But their roster-building story isn't over: here are three things to think about in wake of the NHL team signing this 27-year-old Swiss centreman.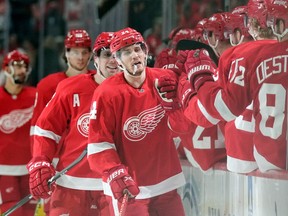 Defensive prowess
One thing Suter does bring to the table is defensive acumen. The Canucks' penalty kill has been abysmal the past two seasons.
And their overall defensive record hasn't been anything to sniff at, either.
GM Patrik Allvin has acknowledged more than once he knew the team's defensive play needed improvement, that this wouldn't just come from more structure, that the players themselves needed to be part of the solution.
Article content
Suter moved the meter defensively for the Red Wings, proving very adept at preventing shots from the middle of the ice at both even strength and on the penalty kill.
Having defensive smarts has always been part of his game, he told reporters via Zoom on Friday.
"When I was younger, trying to get into teams, I knew to try to get more ice time. To be reliable on the other defensive side, to get some extra shifts in, to show more what you can do. And so I always had to focus on that," he explained.
The transition to the NHL three years ago didn't prove to be too big of a step he said.
"Be a little bit smarter. Be in better, you know, position wise. It's not a lot but sometimes have to be either a couple centimetres more to the inside or on the other side, helps you alot with body position and also battling against bigger players. And know the moment when you have to be strong and have a good timing," he added.
Article content
The cap crunch
Buying out Oliver Ekman-Larsson in June was with a clear purpose: to re-set the roster and create cap space that could be used more efficiently.
They've clearly done so by signing defencemen Ian Cole and Carson Soucy in July, as well as forward Teddy Bleuger, and now Suter.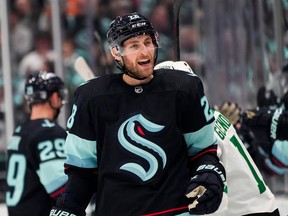 But they are also back at square one, well over the cap and so they're going to have to make some moves.
As it stands, if they want to start the season with a 23-man roster, they're about $1 million over the cap (which assumes they're putting Tucker Poolman on long-term injured reserve).
The most obvious way to alleviate this cap overage will be to make a trade
The trade options
As has been well-noted, the Canucks have a glut of wingers, a glut that could get even larger if Tanner Pearson really has recovered from his hand injury.
Article content
But even if Pearson is a healthy scratch, there doesn't look to be space in the roster for all of Nils Hoglander, Conor Garland, Brock Boeser and Vasily Podkolzin.
One is almost certainly going to have to go.
Because of their youth and low cap hits, both Hoglander and Podkolzin have some obvious trade value. But a team like Vancouver should be reticent to trade young forwards who still have untapped potential.
Garland and Boeser have been trade options before, but potential trade partners have had reservations about their cap hits.
The other trade option could be Tyler Myers. The towering defenceman is in the final year of his contract, with carries a $6 million cap hit but will earn just $1 million in salary this season after a $5 million signing bonus is paid in September.
Article content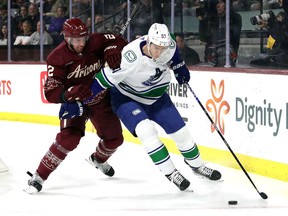 Trading Myers' cap hit would solve the Canucks' cap concerns in one fell swoop. The wouldn't even necessarily have to trade one of the wingers, either.
There was talk earlier this summer that the Canucks had lined up a tentative deal with the San Jose Sharks. The Sharks have since traded out Erik Karlsson so you can't help but wonder if a supposed Myers deal might now be a possibility: San Jose does need NHL players but only so many, as they look to be trending towards a tanking year.
Myers on an expiring deal might even have some interest at the trade deadline, which a team look looking to add futures — like San Jose — is inclined to flip.
The point of moving on from Ekman-Larsson was so the Canucks wouldn't have to pay a price in a trade to clear cap space; a trade involving one of the wingers could quite likely come at a price but perhaps a Myers deal to San Jose wouldn't, since he'd fill a short-term need for the Sharks and also have added value as a trade chip.
---
Summer subscription sale: Our in-depth journalism is possible thanks to the support of our subscribers. For a limited time, you can get full online access to the Vancouver Sun and The Province, along with the National Post and 13 other Canadian news sites, for just $40 for one year or $1 a week for 52 weeks. Support our journalism by subscribing today: The Vancouver Sun | The Province.