The 5-4 defeat punted Toronto further away from an American League wild card spot
Get the latest from Rob Longley straight to your inbox
Article content
There are times, Kevin Kiermaier admits, that he would love to release his inner linebacker to help alter the troubling direction of the Blue Jays season.
Article content
Such is the frustration of being on a team with much higher expectations than being a middling team slipping out of the post-season picture. Baseball doesn't work that way, of course, as anger can only lead to more aggravation.
Article content
The Jays are feeling it in heaps now after 5-4 loss to the Washington Nationals on Tuesday at the Rogers Centre, a defeat that punted them further away from an American League wild-card position.
With the Texas Rangers and Houston Astros each winning, the Jays are now 3.5 games in arrears of the final spot as the exasperation continues to accelerate.
"We know as a group that we can be better than what we have been," Kiermaier said on another maddening loss.
"We can't sit here and harp on everything that's happened through the course of the season. What we control is now what we do moving forward.
Article content
"We know that time is ticking and we've got to play great."
Former AL MVP, Blue Jays star Josh Donaldson released by Yankees

Blue Jays' new-look lineup pays dividends while doubling up Nationals
The latest infuriating setback boiled over in the ninth when the Jays had the bases loaded with nobody out, but could muster only a single run to pull within one, the game ending on a meek pop-up foul by Danny Jansen, preceded by a harmless grounder from Vlad Guerrero Jr.
A crowd of 39,722 was on their feet for that melted-away moment that had all the feeling of a season-changer. Instead, it was another loss that dipped the Jays' record to 72-61 and a mediocre 34-30 at the Rogers Centre.
"We all know that every loss and every win is at a premium right now," manager John Schneider said afterward. "Every loss sucks. Quick turnaround. Have to be ready to roll (when the home stand ends Wednesday afternoon.)"
Article content
So yes, time is ticking indeed and not much is bouncing the Jays' way these days — from health to momentum to the latest heartbreaking defeat.
Prior to Tuesday's contest, the Blue Jays placed their best hitter, Bo Bichette (strained quad) on the injured list for the second time this month. A day earlier, their best defender, Matt Chapman, went on the 10-day IL with a finger strain. Come game time, the potential impact bat of Brandon Belt wasn't available due to back spasms.
That left Schneider to cobble together a lineup that had recent callup Ernie Clement at shortstop and Santiago Espinal at third. Rookie sensation Davis Schneider, at second, added to his burgeoning legend with a solo homer in the fifth and an RBI double in the seventh.
Article content
No matter how much they try, it seems, the Jays can't harvest any meaningful momentum, but now have to find a way to do so in a hurry. With 29 games remaining, it certainly feels as though the urgency is building.
"We've got a great clubhouse, but there's been a lot of ups and downs," Kiermaier said of the current conundrum.
"We're a lot better than what we've shown throughout the year. We've had a couple of really good stretches, but we thought there would be more of them throughout the year.
"We've had guys not feeling as locked-in as what they might be. As a group, we all know we could be so much better and we've put a lot of pressure on ourselves."
RECOMMENDED VIDEO
There's little doubt the Jays are feeling the heat, especially with the absence of two of their star players. When tardy-footed Alejandro Kirk was gunned down at the plate to end the eighth inning while trying to score on a tag-up on a fly ball out to centre, it created an instant flashpoint for second-guessing.
Article content
"The odds of a medium-depth fly ball with an average-throwing outfielder and Kirky at third was probably last on my bingo card," Schneider said of the gutting that was to be outdone in the following inning with the bases-loaded shortfall.
Schneider doubled down when asked if he considered pinch-running for Kirk in the eighth.
"Tying run, yeah, we would have had a runner there," the manager said. "Down by two? No."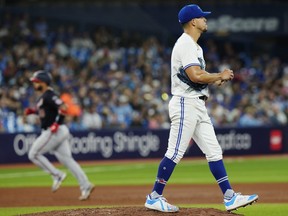 It will take more than a good story like that of Davis Schneider to salvage the season, however. It's going to take players such as George Springer, Vlad Guerrero Jr. and others to start carrying the load offensively. And it's going to need to happen soon.
"There are times when I do wish we could go out there and hit someone or do something to get the crowd into it," Kiermaier said.
"But you can't go out there and say 'Yeah, I'm going to hit a homer on the first pitch.' You have to let the game come to you, collectively and as a group."
RECOMMENDED VIDEO
AROUND THE BASES
It didn't help that Jays starter Jose Berrios was hit hard by the Nationals, the biggest damage coming on a three-run Keibert Ruiz homer in the fifth … Berrios allowed five runs on six hits through six innings, striking out just two to take the loss … Davis Schneider now has four homers in his last five games and his six on the season, matching Kirk's total.