The 16-year-old rearguard is "excited to be here again and she's way more comfortable than she was a year ago." according to GM Barclay Parneta
Article content
Chloe Primerano has shoehorned multiple major moments into the past 15 months. 
Article content
The 16-year-old defender from North Vancouver is back for her second training camp with the Vancouver Giants this weekend at the Ladner Leisure Centre.
Article content
The Giants made Primerano the first-ever female skater selected in a major junior hockey draft when they picked her in the 13th round of the 2022 WHL Draft two springs ago. She performed so well at camp last year that Vancouver kept her on their 50-player protected list all season and invited her back to camp this time around.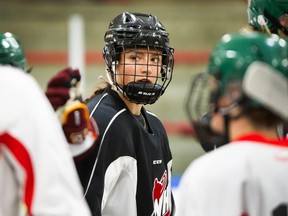 Along the way, she signed on with CAA Hockey — the agency that represents the likes of Quinn Hughes, Elias Pettersson and Sidney Crosby — to be her family adviser in March, and she was one of the stars of the Team Canada Under-18 women's side in games against the U.S. and Finland last month. 
Article content
She is a flashy, puck-moving blueliner who has been a fan of offensive defencemen like Hughes and Duncan Keith. She is slight by WHL standards, listed at 5-foot-8 and 135 pounds.
"She's excited to be here again and she's way more comfortable than she was a year ago," Giants general manager Barclay Parneta said. "And I can't emphasize enough how good a person she is. She's a real pleasure to deal with in every aspect."
Article content
Parneta maintained all along that this was never a gimmick, that Giants scouts were routinely bringing Primerano's name unsolocited in her draft year.
"I don't care what people thought. We have a scouting staff and we assessed her fairly and based on her play," he said. "We want the best hockey players. Period."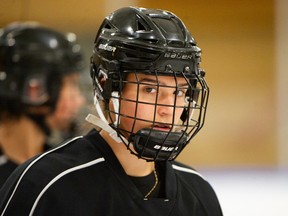 The Giants wrap training camp Saturday night with the Quinn/Howe Legends Cup intrasquad game in Ladner. They have four exhibition games, starting with a Sept. 8 match-up with the Prince George Cougars in Port Coquitlam.
A 16-year-old, 13th-round pick is far from an automatic to get into an exhibition game. Parneta says that Giants brass will assess Primerano over the next few days before making that call.
Article content
"And I would tell you that about any of our 16 year olds," he continued.
Article content
There has never been a female skater get into a game of any sort in any of the three major junior leagues. There have been five goalies, with Rhyah Stewart, a 16-year-old who stopped all 24 shots sent her way in 30 minutes of action in her Cape Breton Eagles' 5-3 loss the Moncton Wildcats in QMJHL preseason action last week, the most recent.
The only female to see game duty in the WHL was Shannon Szabados, who played goal for the Tri-City Americans in 2002-03. That included preseason action and a Sept. 22 regular season match-up against the Giants at the Pacific Coliseum, when she got 50 seconds of ice time due to starter Tyler Weiman having an equipment issue. 
Vancouver drafted Primerano out of the Canadian Sport School Hockey League Under-15 prep male ranks, where she was playing with Burnaby Winter Club. She moved to RINK Kelowna and their Under-18 prep female team last season. There is no bodychecking permitted in female hockey, so that would be a readjustment at play for Primerano.
Article content
"She can skate and she can think the game at this level," Parneta said. "She had shown before that she was evasive, and could think her way out of trouble. Is she going to be able to do that again? We're going to have wait and see."
Asked if she wants to play an exhibition game with the Giants, Primerano said: "I'm taking it day by day and seeing where it goes."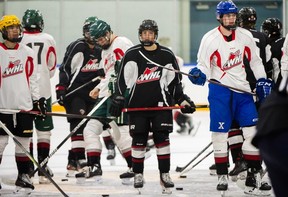 Primerano, who is in Grade 11, wants to play NCAA women's hockey down the line and plans on touring universities this fall. The NCAA normally voids WHL players from competition, seeing them as professionals due to the expense stipend they receive. The NCAA looks at male and female hockey as two separate sports, though, so playing with the Giants wouldn't kibosh Primerano's scholarship chances.
Article content
Eve Gascon, 20, is a perfect example. She played two QMJHL games with the Gatineau Olympiques two seasons ago. She's getting ready for her freshman season with the University of Minnesota-Duluth currently.
Primerano won't say where she's leaning with the NCAA. Her older brother Luca Primerano, 18, has committed to the University of New Hampshire and is currently preparing for his second season with the BCHL's Prince George Spruce Kings.
She can lean on him for advice, and she can turn to the folks at CAA, who began representing women's players in January. They're obivously looking to get in front of the growing women's game.
Primerano was the went to a CAA prospects camp in Los Angeles in July. She was the first female skater to take part in the camp. Among the on-ice instructors there was Jim Hughes, who's the father of Quinn, as well as Jack and Luke Hughes of the New Jersey Devils.
Article content
Primerano tags herself as "huge Canucks fan," and says hat that she tries to borrow from Quinn's game, because of "his skating and his IQ and how he gets up in the rush — he picks his spots well." 
She didn't tell the elder Hughes any of that. 
"I was a bit nervous," Primerano said.
Primerano is set to play this coming season with the RINK Kelowna Under-18 prep female team. She was her league's most valuable player last season after finishing first amongst defenders and fourth overall in scoring with 48 points, including 20 goals, in 30 games.
She's hoping to play in the Under-18 world championships, which are Jan. 6-14 in Switzerland. Canada are the two-time defending champions.
Vancouver Giants prospect Chloe Primerano signs power agency CAA to be family adviser

Pioneering Primerano impresses Vancouver Giants brass on first day of camp
---
Summer subscription sale: Our in-depth journalism is possible thanks to the support of our subscribers. For a limited time, you can get full online access to the Vancouver Sun and The Province, along with the National Post and 13 other Canadian news sites, for just $40 for one year or $1 a week for 52 weeks. Support our journalism by subscribing today: The Vancouver Sun | The Province.