Just months since jumping from a go-kart to a race car, the 19-year-old from Saint-Lazare, Que., is leading the Formula 4 U.S. Championship Series by 36.5 points.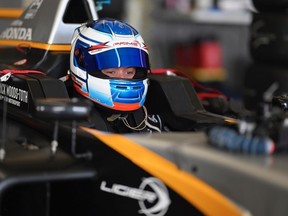 Article content
MONTREAL — Much like the way he moves around a racetrack, rising Canadian auto racing star Patrick Woods-Toth is quick to leave an impression.
Article content
Just months since jumping from a go-kart to a race car, the 19-year-old from Saint-Lazare, Que., is leading the Formula 4 U.S. Championship Series by 36.5 points with six races remaining. He's also attracted Canadian Motorsport Hall of Famer Ron Fellows as a mentor.
Article content
"From everything I see, he's a kid with as good a skill as I've ever seen," said Fellows, who holds the record for most wins by a foreign-born driver in NASCAR's top three series.
Other Canadian legends of the sport are also taking notice.
Last December, Woods-Toth received a scholarship to the "Karts to Cars" program at the Radford Racing School in Arizona. It only took a couple days for Hall of Famer and F4 U.S. race director Scott Goodyear to recognize he was a special talent.
Article content
"At the end of the second day my phrase to (Fellows) was, 'Houston you have a problem,"' said Goodyear. "Because he's got this young lad here that is super talented and really has no financial backing to speak of."
Goodyear says he was impressed by Woods-Toth's calmness and ability to make wise decisions at high speeds in a car. Fellows says Woods-Toth has "an elite-level processor" and the ability to look at data and video and translate it into getting better.
But words of praise only go so far in an elite racing world that is fuelled by substantial financial backing. Canada's only two Formula One drivers in the past 15 years, Lance Stroll and Nicholas Latifi, have billionaire parents.
Woods-Toth has a different backstory. He lost his father to an accident and his mother to an illness before he turned five, and was raised by his grandparents.
Article content
"The rest of my family, I guess you could say, adopted me," said Woods-Toth. "I lived with my grandmother, my grandfather for a while, and then my aunt and my cousins have all been supportive."
Woods-Toth spent most of his time growing up at his grandmother's in Saint-Lazare, and would spend weekends up in Saint-Sauveur, Que., with his grandfather. That's where his love of driving began.
His grandfather, who died in 2021, had raced himself, and was an avid fan, with the television in his living room constantly tuned to Formula One and IndyCar.
The two would ride ATVs and snowmobiles on weekends, until Woods-Toth got into karting and that took up most of their time.
Woods-Toth says he received financial support from his family to get into karting. At around 14, he joined the Motomaster Ron Fellows Karting Championship in Bowmanville, Ont. Fellows and his wife, Lynda, have been involved in helping youth karting in Canada for 20 years.
Article content
Once in Fellows's series, Woods-Toth says he received financial backing from Prime Power Team owner Trevor Wickens.
"I wouldn't be here without the help of Trevor," said Woods-Toth. "That's for sure."
Woods-Toth won three straight championships on Fellows's series and won the Canadian Karting Championship last year.
After making his impression on Goodyear in Arizona, Woods-Toth joined the Crosslink Kiwi Motorsport team for the first Formula 4 weekend in New Orleans in March.
Once there, Woods-Toth vastly exceeded expectations by finishing second, third and third in the event's three races, making it clear that he should do a full season on the F4 U.S. circuit — something Fellows says costs roughly $300,000.
Article content
Now supported by the Fellows and the Fidanis — who own Toronto real-estate company Orlando Corp. — Woods-Toth is favoured to take home the F4 U.S. Championship.
Moving forward, Woods-Toth has a couple options: progress to Formula Regional (F3) in the United States, or try to drive F3 in Europe.
"The real goal is to make it to Europe where I can really develop," said Woods-Toth. "There is no scholarship for that, we're going to have to pay for it. That's the next the next biggest hurdle."
The financial demand is significant. Fellows estimates that jumping to F3 in Europe would cost "a million and a half, maybe a million and a quarter" Canadian dollars.
Fellows says they're constantly working on getting more sponsorships, with nothing concrete to report yet for next season.
Article content
"In a perfect world from a funding perspective, you'd love to see a kid of this skill get a shot of going to Formula One," said Fellows.
"Much of it is getting the word out that there's this very talented kid who deserves a shot," he added. "I've been around this business my entire life and we'll continue to knock on doors, it's non-stop."
Goodyear believes the challenge facing Woods-Toth's off the track might be even bigger.
"The dream is there, if you can get there," he said. "He's got the ability, he's got the talent, but racing is a package of everything and he's going to have to work as hard off the track as he is on the track.
"You need to be working like you're politicking for mayor."
Despite recognizing the realities of the sport, Woods-Toth says "if you're not aiming for Formula One, I don't know why you're racing."
Article content
And there's little questioning his commitment.
Goodyear says Woods-Toth "is eat, breathe and sleeping the business," and studies film like he's an NFL quarterback to learn how he can approach each track.
Woods-Toth believes that dedication is the biggest reason for his success so far. He says it's something his grandfather instilled in him.
"He really made sure that I didn't mess around and I took stuff seriously," he said. "There's no excuses when I'm not doing the right thing. There's no excuses for making mistakes or not learning, you just gotta always improve and my grandfather taught me that from a very young age."
With that kind of talent and resolve, Fellows is confident the young driver will get his chance.
"If you're good enough, and you want it bad enough, and you stay at it long enough — somebody's going to find you," he said. "I believe that wholeheartedly."
This report by The Canadian Press was first published Sept. 1, 2023.
Check out our sports section for the latest news and analysis.