The 65-year-old, to be clear, never set out to write a book.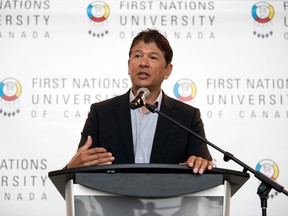 Article content
Ted Nolan should have been thrilled.
Article content
The knock at the door was the delivery of the Jack Adams Award _ a prestigious nod given annually to the NHL's coach of the year.
Article content
Nolan won the trophy the previous season after guiding the Buffalo Sabres to a surprise division title, besting a field that included the legendary Scotty Bowman.
"I knew what was in the box," Nolan recalled, "but I'd pushed any thought of its arrival far from my mind."
He placed the package at the top of the stairs. Emotions washed over him until only one remained: "Pure anger."
"I lifted my foot, and with all the strength I had, kicked the box, sending it hurtling," Nolan continued. "I heard it land with a loud metallic crash."
That jarring anecdote opens Nolan's book "Life in Two Worlds: A Coach's Journey from the Reserve to the NHL and Back," which hit shelves this week.
Article content
And Nolan doesn't hold back, providing raw details of his life in Garden River First Nation Reserve — near Sault Ste. Marie, Ont._ leaving home to play hockey as an outsider, making the NHL, his journey in coaching, and a still-stunning split with the Sabres.
The 65-year-old, to be clear, never set out to write a book.
But with the ongoing conversations in Canada around systemic racism against Indigenous Peoples, including the work of the Truth and Reconciliation Commission, Nolan felt compelled to tell his story.
"I got really emotional about what happened in my career," Nolan said in an interview with The Canadian Press. "Had to get into the private part and talk about my upbringing and the things that happened."
Article content
He dives in on life in Garden River, the challenge of being an Indigenous child at school in Sault Ste. Marie, and playing junior in Kenora, Ont., where he dealt with racism from all sides, including teammates.
"Extremely hard for me to adjust," said Nolan, who is Ojibwa. "I turned to alcohol when I was 16 and tried to subdue the pain I felt fighting in hockey all the time, fighting at school all the time."
Nolan eventually stopped going to school. No one noticed. Or cared.
"The scary part about it was people involved with our team were directly involved with the education system," he said. "Not once did they ask, 'How come you're not going to school?' They just let me be.
"Thankful that I made it through that year."
He would never be the same.
Article content
"Put my brain on cruise control," Nolan said. "The game changed from 'Having fun in the game' to 'Trying to survive in the game.'
"Wanted to prove I could play versus playing because I really enjoyed the game."
It's his wish that "Life in Two Worlds" helps foster better understanding and awareness of Indigenous communities' place in society.
"We heard the whole story with truth and reconciliation … everybody's like, 'Just get over it,"' Nolan said. "How do you just get over something so traumatic?"
He also wanted to shine a light on the hurdles some minorities face in hockey.
"It should be a little bit more open," Nolan said. "Have a little bit more understanding, have a little bit more compassion for people less fortunate trying to play."
Article content
He eventually moved on with his junior career back to Sault Ste. Marie with the Greyhounds alongside a baby-faced Wayne Gretzky before realizing his own NHL dream.
Nolan then returned to the Greyhounds as coach and helped the team to three Memorial Cup appearances, culminating with a victory in 1993.
That led him to Buffalo, where he pushed the Sabres atop the standings despite a limited roster and a strained relationship with general manager John Muckler.
As his tenure progressed behind the bench, whispers started to emerge.
"Rumours I wouldn't listen to direction, I'm a hard guy to work with, I'm lazy, I was drunk at practice," Nolan said. "When you say 'lazy' and 'drunk at practice,' that really hit home. Our people have been described as that for so long. Some people that succumb to their trauma get into drugs and alcohol.
Article content
"I worked in a program talking to kids about the dangers, and here I was labelled. That probably hurt the most."
After Muckler was fired following the 1996-97 season, Nolan was viewed on the outside as the primary reason.
"People made assumptions that John and I were at each other's throats," he said. "It wasn't like that. We had different philosophies."
Darcy Regier, who replaced Muckler, made it clear from the start he wanted no part of his inherited coach, according to Nolan.
At their first meeting, he wrote that Regier had his feet up on a desk.
"Felt very disrespected," Nolan said in his CP interview. "Like going into those schools when you're from the reserve and the way kids looked at you — you didn't feel like you belonged or were wanted. Then you have flashbacks to Kenora and the locals that didn't want me.
Article content
"I'm going, 'He's not interested in bringing me back."'
Nolan didn't have a contract for the 1997-98 season. He declined what he saw as an insulting offer of a one-year extension after being voted as the NHL's top coach, which Regier then pulled off the table before hiring Lindy Ruff.
"We wouldn't be sitting here if they just fired me," Nolan said. "But when you start rumours of 'Why?' or trying to justify 'Why?' that really irritated me and set me back personally.
"I went into a very dark place."
Nolan would eventually return to the NHL with the New York Islanders and a second tour with Sabres after Regier left the organization, but never enjoyed the same success.
He's convinced if he was white, that Jack Adams honour would have kept him in the league.
Article content
"How many people get chance after chance without winning?" he said. "It's all about relationships. Unfortunately, I didn't grow up on that side of the tracks.
"My world was back home in our community, going to powwows and sitting around camp fires listening to stories."
Nolan is proud of that world. There's heartache in his journey, but also hope.
"We had a rough upbringing," he said. "But to try to block someone trying to achieve something, and keep them outside, that's wrong. I wanted to prove to the next generation you can make it if you fight. A lot of those things were involved with the decision to write the book.
"And the decision to fight through."
This report by The Canadian Press was first published Oct. 12, 2023.
"Life in Two Worlds: A Coach's Journey from the Reserve to the NHL and Back." Ted Nolan with Meg Masters. Viking/Penguin Random House Canada, 325 pages, $35.
___
Follow @JClipperton_CP on X.