The Toronto Blue Jays had assigned the North Delta native to the C's for the 2020 season, and he thought COVID-19 pandemic had cost him his one shot at guiding the team there
Article content
A sneaky childhood buddy was the only thing that Vancouver Canadians manager Brent Lavallee seemingly didn't have a game plan for this season.
Article content
Bryan Stebbings talked his way past Nat Bailey Stadium security moments after the C's beat the Everett AquaSox 10-2 to claim the Northwest League championship Saturday and raced across the field to give Lavallee a bear hug so massive that it could easily have been an homage to the Nation Extreme Wrestling show at the ballpark last summer.
Article content
"What? How did you get out here?" Lavallee shouted when he clued in whose grasp he was in.
Stebbings and Lavallee grew up together in North Delta. Lavallee called him "my best friend for my whole life." Stebbings was part of a large entourage of family and friends at the Nat to cheer the bench boss on. 
The hometown team won Saturday. A hometown boy was leading the charge.
"It's surreal. What a crazy opportunity," said Lavallee, 37, who was a catcher with the B.C. Premier League Delta Blue Jays between when they had Jeff Francis, Justin Moreau and James Paxton. "What a blessing. You couldn't draw it up any better.
Article content
"Never in my wildest dreams would I have thought or expected to be in this role."
Article content
At one point, there was concern that this chance had slipped through his fingertips.
The Toronto Blue Jays, who are the C's big league parent club, hired Lavallee in December, 2019, after a highly successfully run at the helm of the Louisiana State University-Shreveport Pilots, an NAIA team that he had joined initially as a player. 
Toronto assigned him to manage Vancouver for the 2020 season, but the COVID pandemic took hold and put all of minor league ball on the sidelines for a year.
In that time, Major League Baseball opted to revamp its farm system. It cut ties with 43 teams. Affiliations changed. There was talk that the C's and Blue Jays were going to split, with Toronto opting to have its farm clubs closer to home. There were even reports that the C's were on the verge of joining the Oakland Athletics system.
Article content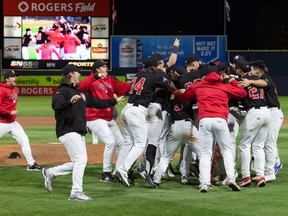 When play resumed in 2021, the C's were still under the Blue Jays umbrella as their high-A affiliate. Lavallee was still working for Toronto, too, assigned to manage their Florida Complex League team. The Blue Jays bumped him up to manage Vancouver in 2022, and then had him return to the C's this season. 
"I thought I had missed my chance with COVID," Lavallee said. "This was the job that they gave me and then it opened up again last year and I'm so thankful that they sent me here. Getting a chance to do this with my family and my friends and in this incredible city and with the passion that these fans show … you won't get that again in minor league baseball."
Article content
You'd think that he won't be back with the C's next summer, with Toronto instead giving him a crack to move up in the system.
Vancouver went to the Northwest League championship series last season, where they were swept by the Eugene Emeralds. The C's then went 80-55 this year when you combine regular season and playoffs. 
Right-hander Dahian Santos was their highest-ranked prospect amongst the C's, according to MLB Pipeline, coming in at No. 11 on Toronto's top-30 list. He hasn't pitched since July 1 due to injury. Among the players Vancouver lost to promotion was lead-off man and outfielder Devonte Brown, who went up to double-A New Hampshire Fisher Cats just three weeks ago. 
The C's dropped 12 of their final 18 regular season games. They lost Game 2 of the best-of-five playoffs 10-0 in Everett, evening the series at 1-1. They won Game 3 1-0 Friday at home, and then clinched the series in four games with that triumph on Saturday.
Article content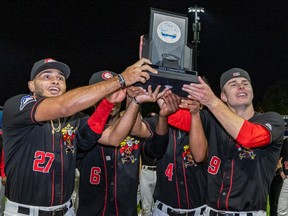 All teams have things to overcome. Vancouver showed a better penchant for it than most. Lavallee tried to downplay his part in all it, as you'd might expect.
"This about the players. Every ounce of work that they put into this is why it's turned out like this," he said. "This is the next crop. This is the next group of guys to pass it on and keep going. It's scary what New Hampshire looks like with this team next year."
The AquaSox are a Seattle Mariners' farm team, and they featured Seattle's top three prospects according to MLB Pipeline, with shortstop Cole Young, catcher Harry Ford and right fielder Gabriel Gonzalez, respectively. The trio manned those three spots in Everett's batting order on Saturday, oddly enough.
They advanced to the playoffs by winning the second-half pennant. Vancouver had won the first. Seattle (74-58) finished three and a half games in back of Vancouver when you combine the two halves. The next-best team was Eugene (66-66), who were 11 and a half games behind Vancouver in the six-team loop.