Two men, one Cup, and enough joy for an entire province: The night the Vancouver Whitecaps won the Cascadia Cup without having to lift a finger
Reviews and recommendations are unbiased and products are independently selected. Postmedia may earn an affiliate commission from purchases made through links on this page.
Article content
Peter Czimmermann and Steve Maddess looked at each other, eyes wide — and they knew. They just knew.
Article content
The Cascadia Cup was coming home.
Article content
A few 100 feet from them at Lumen Field on Saturday, Seattle Sounders winger Léo Chú had just got his second yellow card of the game for clattering into Portland's Zac McGraw.
He'd been a hero to the Emerald City Supporters when scored earlier to put his team up 2-0, but his departure from the pitch started the inevitable house of cards collapse. The Sounders folded, the Portland Timbers stormed back, tying the game 2-2.
They drew. The Vancouver Whitecaps won.
The Caps claimed the long-standing and treasured  supporter-created Cascadia Cup, with neither of the other two participating Pacific Northwest teams able to catch them in points in their annual three-team round-robin tournament.
Article content
"As soon as the (Chú) tackle happened. I looked at Peter. He already had his hand in the air. We were just high-fiving each other, and we just … we knew," said Maddess.
"We didn't say anything to each other. We just looked at each other. The emotions on our faces, you know, like eyebrows going up and down or we're both thinking deep thoughts at that point … And sure enough, they got the (tying) goal."
Article content
The mood on the trip down the I-5 was far more measured than their post-game jubilation. They were among the few who twigged to the fact a tie between Seattle and Portland would clinch the Cascadia Cup after Vancouver had beaten the Timbers two weeks before.
Czimmermann, the Southsiders president, and Maddess, the treasurer, watched the Caps' road game against NYCFC on TV that morning, then made the drive to Seattle with the long weekend traffic. Their hopes were slightly simmering, but expectations were low.
They showed up to Lumen Field in their Whitecaps jerseys, to find both Timbers and Sounders fans alike slightly baffled and bemused at their appearance.
"People were laughing. 'Are you guys OK? Are you lost?" Maddess chuckled.
Article content
"Walking around in the concourse and people are like, 'You're in the wrong city,'" added Czimmermann. "'No, I'm just here for the Cup.'"
They took their seats high in the stands, just squeezed between Seattle's ECS and Portland's well-travelled Timbers Army.
They were alone, though a third long-time Caps supporter — whose name will be withheld to protect the innocent — joined later, wearing Whitecaps hoodie and Prawnsiders scarf over a Sounders jersey.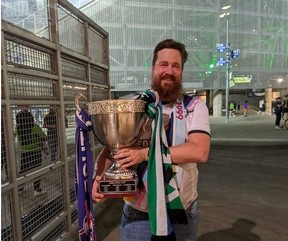 The Sounders, though second in the Western Conference, hadn't been exactly lighting up the scoreboard, with just one win in five games coming in. The Timbers are four points under the playoff line in 12th and likewise had been staggering, with just two wins in nine games.
Article content
It appeared the game would get away from Portland, as they trailed inside of 10 minutes and 2-0 after 30; Czimmermann and Maddess contemplated a halftime departure and making plans to share a drink with their fellow Cascadia supporters post-game.
Then Chú was hoisted by his own petard. His first yellow was for removing his shirt to celebrate his goal, and when he stepped on McGraw's foot and scythed him down in the 53rd, it sparked the flame of growing schadenfreude in the trio of Caps fans.
The result was near perfect, from their point of view. A bone-headed yellow card coming back to haunt a rival. A blown lead that kept the Timbers' nine-game unbeaten streak in Seattle (6-0-3) intact. Seeing both Cascadia rivals in the mud.
Article content
"Yes, it was quite enjoyable, seeing everybody sad and sort of unhappy at the end, " said Czimmermann, laughing heartily.
"There had to be a winner down there, and it ended up being us."
The Southsiders capo jumped on instagram to livestream the final minutes of the game, and when the final whistle blew, the Cascadia Cup was ceded to him by the Timbers Army, last year's champs.
"I sort of lifted it. I think I yelled '**** Seattle' because I know that resonates with the Army — or at least they won't hate me as much," he said, laughing.
Some loyalists sent their virtual congratulations during the livestream, including Whitecaps president and CEO Axel Schuster, who'd been watching from afar. Most of the Whitecaps players were on a plane somewhere over Montana when the news broke, their lusty collective cheer likely waking up a few of their fellow passengers on the night flight.
Article content
After waiting for the home fans to leave — its MLS policy, so visiting supporters don't mix with the home crowd — Czimmerman and Maddess took the Cup on a walk through the concourse, stopping for photo ops and to answer questions every time someone asked what they were carrying.
Those that did recognize the chalice all said a variation of "I'm glad it didn't go to Portland/Seattle," depending on the team they were there to cheer for.
"What makes it easy for us is that they really hate each other, so they'd rather us have it then the other team," Czimmermann said. "We are friendly Canadians, so that deep hatred between the (American) cities … is still there. You can feel it. They are a bit more passionately singing hateful songs than us.
Article content
"But we're not a third wheel this year. We've got the Voyageurs Cup, and we have the Cascadia Cup. We are the better team. So it doesn't matter how much they hate each other, because we are the best."
It's the seventh win for Vancouver since the Cup was created in the USL era (2004), tied with Seattle, but the first since 2016. Portland sandwiched wins in 2017 and 2022 around three straight years of Sounders victories.
The Cup has been lost in the glare of the U.S. teams' MLS success, however. Since 2015, the Sounders have been to four MLS Cup finals, winning twice. Portland has been three times, winning once.
The Whitecaps have only made the playoffs in three of those seasons, with a single play-in victory in 2017 to brag about.
Article content
"Considering that we managed to get the Cascadia Cup quite a few times in MLS (4), the only time we really felt like a third wheel was when they started winning MLS Cups or being in the final," Czimmermann said of the Caps' geographical rivals.
"I think that's kind of why the Cup was sort of forgotten in a way."
The Whitecaps are in sixth place in the West, but their ceiling is much higher. They have games in hand against all the teams ahead of them, including two on Seattle, who are only three points ahead of them in second. The road woes that dogged them have seen an encouraging flip recently, with Vancouver winning four of their last five away games.
They shored up the weak spots with quality acquisitions, have two DPs playing at an MVP calibre level, and a striker scoring at at DP level.
Article content
"Yeah, I'm getting excited. Cautious still … I've been burned a couple of times in the past," said Czimmermann, thinking of the 2015 squad that was on track to win both the West and Supporters Shield, but flamed out in the stretch leading into Decision Day (0-3-2), then crashed out in the playoffs against Portland.
"The best thing is that we are not getting into the end of the season, basically trying to (scrape) into the playoffs. It's really up to us to lose it. That's a good feeling, and it's been a while since I felt that."
Maddess is also cautiously optimistic. He's been a Whitecaps fan since the 1970s, seeing the heydays of 30,000 fans at Empire Stadium, and 60,000 for the B.C. Place inauguration against Seattle, plus countless games in Seattle and Portland at the Kingdome and Providence Park.
Article content
Saturday was right up there with some of the best memories he's had in the near half-century of fandom.
"I've been going to those cities for a long, long time. So this feels awesome to win. This is what it's all about," he said.
"Realistically, an MLS Cup would be friggin' A. So yeah, this is like No. 2. It doesn't get much better than that. This is phenomenal. I never take (Cascadia Cups) for granted … when you win them, you never want to give them up."
Twitter.com/TheRealJJAdams
---
Bookmark our website and support our journalism: Don't miss the news you need to know — add VancouverSun.com and TheProvince.com to your bookmarks and sign up for our newsletters here.