In a pairing with Guillaume Brisebois, it was a different kind of challenge for McWard. The rookie answered the call
Get the latest from Ben Kuzma straight to your inbox
Article content
ABBOTSFORD — Really, who were we here to see?
Article content
With seven forwards, three defenceman and one goalie considered roster locks and deployed by the Vancouver Canucks on Wednesday, the bubble boys were going to draw attention in a pre-season meeting with the Seattle Kraken.
Article content
How Dakota Joshua, Nils Aman and Jack Studnicka, who are in the hunt for fourth-line employment — although Teddy Blueger is probably the opening-night pivot — performed as a second line could have been a talking point. They were for the wrong reasons.
And how veterans Carson Soucy and Filip Hronek would function as a top pairing went from concern to consistency.
However, it was Cole McWard who scripted another intriguing chapter during a 2-1 loss in which Eeli Tolvanen deposited the winner off a rebound.
Article content
On a night where the rookie rearguard didn't have the safety net of the get-out-of-jail-free card in Quinn Hughes as his partner — the superstar sat out along with Elias Pettersson, J.T. Miller, Conor Garland, Phil Di Giuseppe, Ilya Mikheyev and Blueger — the Ohio State product stood out.
---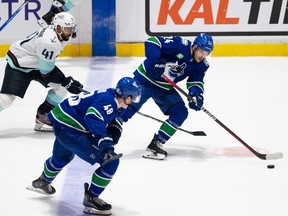 McWard keeps moving meter
In a pairing with Guillaume Brisebois, it was a different kind of challenge for McWard. He answered the call early with good communication, outlet passes on the tape, a physical presence on the defensive sideboards and good reads. He reversed the puck in his own zone to escape trouble and supported Brisebois when his partner was outmanned. Brisebois took two penalties, McWard took none and had the beaver tail going in wanting the puck for shot opportunities.
Article content
McWard got a good shot on net through a second-period maze and continued to make strong and accurate passes, but made a rare bad decision in the third period that led to a scoring chance.
"There are a lot of 5-on-5 drills in practice to see what he can do," Canucks coach Rick Tocchet said of McWard. "And not just him. It's other guys, too. We're extending 5-on-5 plays to see players make decisions under pressure.
"Game management is huge to win. McWard has a high hockey I.Q."
---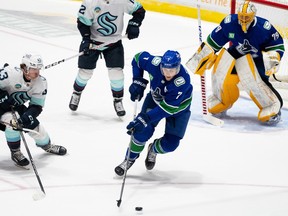 Soucy struggles, then recovers
A double screen helped Soucy find the net in the second period to make up for a rough night.
During a first-period shift when Joshua, Aman and Studnicka were hemmed in their own zone, poor down-low defending didn't help as Soucy was knocked down twice in puck pursuits.
He didn't fare better on the opening goal. He reached instead of laying the body on Andrew Poturalski, who out-waited goalie Casey DeSmith at the top of the crease before tucking the puck home.
However, Soucy would let a wrist shot fly from the point — thanks to a double screen by Linus Karlsson and Bains — and then nearly scored again from the side of the net on a pinch and had three shots through 40 minutes.