His straight-sets triumph over Arthur Fils was the first time in six-year history of the Laver Cup that Team World claimed an opening win.
Article content
Youth is not only being served at the Laver Cup, it's also holding serve.
Article content
The future of elite tennis is in good hands with a collection of competitive, engaging and exuberant young players excelling on the world's biggest stages.
Article content
They don't shy away from glare of the sporting spotlight. They connect with raucous crowds and are attracting a new generation of fans. They understand branding and selling the game.
When Laver Cup newbies Ben Shelton, 20, of Team World and Arthur Fils, 19, of Team Europe opened play Friday afternoon at Vancouver's Rogers Arena, it was sign of encouraging times.
They exchanged heavy early blows and no service points were surrendered through the first four games.
However, when Shelton rallied to take the first set tiebreaker, 7-6, and then broke Fils twice in the second set en route to convincing 6-1 triumph, the straight-sets triumph was the first time in six-year history of the Laver Cup that Team World had claimed an opening win.
Article content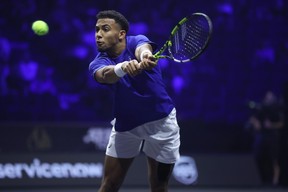 It wasn't was easy as it looked.
"When somebody comes out of the gate and is serving like Arthur, it puts a little pressure on you," said Shelton. "I felt it from the start and felt pretty good about the way I responded. It was big in the first set for me to stay with him all the way.
"When the balls at the end of ball change, it was tough to get anything on the serve and you saw them fluffing up. In the tiebreaker on the first point, I'm literally seeing the ball fluff up on a long rally — that's what made it so difficult. I thought I handled it well."
Fils had a 5-4 lead in the first set and Shelton was in a 15-30 hole before rallying with an ace and handcuffing Fils with a heavy serve to square the match. And even though Fils would go up 6-5, Shelton used a cut shot, ace and then another ace to get to the tiebreaker.
Article content
A combination of a heavy serve that would reach 236 km per hour (146.8 m.p.h.) at one point in the match, wide returns by Fils and a clinching forehand winner settled the set.
"I played a few tiebreakers lately and it only takes one or two points to flip it," reasoned Shelton. "I put a lot of trust in my serve down 4-1. When you get back to even, you feel like you have the momentum. I got real confident and it led into the second set.
That's where experience and a comfort factor really kicked in for the world No. 19. Fils had trouble handling Sheldon's serves — he won 84 per cent of his first efforts — and 19 unforced errors proved pivotal for the world No. 44.
After all, Shelton's stunning quarterfinal victory in the U.S. Open over fellow American Frances Tiafoe — his Team World teammate — had the brash left-hander mugging for the crowd with a look of dominant victory meanness. On Friday, he would scream with key point wins that were accompanied by big fist pumps.
Article content
Dictating and taking direction are huge for any young player, especially when the directives come from legendary Team World captain John McEnroe. What did he say?
"Find my position on the return of serve," said Shelton. "That was kind of key. He said to keep doing what you're doing on the service game. It was more what position I was putting myself in to take away certain serves and returns on big points."
Vice-captain Patrick McEnroe had Shelton batting leadoff for good reason. He knew what Shelton did at the U.S. Open and how infectious his game could be in a team environment.
"The biggest thing is his energy and attitude," said McEnroe. "That's why we wanted him to be first guy out to set the tone for the team because he has an incredible mentality for a team event.
Article content
"He was great. Fils played a great first set and a Ben just hung with him. And when he got a chance he pounced."
Team World is off to an 2-0 start after Francisco Cerundolo defeated Alejandro Davidovich Fokina 6-3, 7-5. Cerundolo showed poise and bent but didn't break at key points in the match.
"You can start a game and play fantastic with the energy the guys give you, or you can play really tight," he said. "You want to show your best but you can make mistakes, but it didn't happen to me.
"I tried to enter the court relaxed and just try to play my game and I really like team events. It really helped me to not think too much. That was the key."
This is new territory for Team World.
"Needles to say, this is a good feeling, but the first day is the first day," cautioned captain John McEnroe. "We've got a good mix, so it feels awesome so far."
Article content
As for when to offer court-side guidance, knowing his players either have a coach here or are speaking to a coach, it takes a sense of timing.
"You try to understand what makes somebody tick," said McEnroe. "You talk to people around him and get feedback. I'm not going to walk in and say: 'This is what you're going to do.' Hopefully, you have the right feel of when to say something.
"That's the million-dollar question, knowing when to say something that will make a positive difference. I love team events. It's pretty hard to not be excited, but it's impossible not to be nervous. That's just not going to happen."
Johnny Mac shoots from the lip
The hardest serve before the competition came from the legendary McEnroe. It was a howitzer, like a blazing ace.
Article content
The captain of Team World spoke passionately about where the Laver Cup — it has come to Canada for the first time — needs to maintain momentum and not lose players to personal schedules and take some lustre away from a world-class event.
After all, without the retired Roger Federer, injured Rafael Nadal and Novak Djokovic and Andy Murray taking competitive breaks following the Grand Slam season — plus world No. 4 Holger Rune and No. 5 Stefanos Tsitsipas withdrawing from Vancouver due to injuries — is there reason for Laver Cup concern?
McEnroe thinks so.
Fans are paying a premium to see the best players in the world, not just some of them.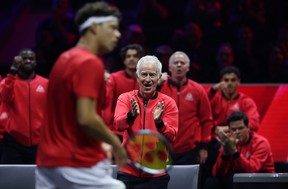 "This is a great test for an event that I believe in," started McEnroe. "It's the opportunity. We don't have these all-time legends, but you could have future Grand Slam winners all over the place. You don't know. And that's exciting to stand out and hopefully tennis will realize the gift is was given.
Article content
"By having Rod Laver and Roger Federer associated with a team event like this, I think it would be a shame if this thing continues to exist on the (current) calendar. It needs a stand-alone time so that all players with feel that scheduling wise and it's not an issue."
Could tennis go the way of major sporting leagues and hold a midseason Laver Cup, ensure attendance and actually prep top players? Or, how about after the Australian Open? It won't happen quickly but it needs addressing. Scheduling shouldn't be a problem.
"It has become one," stressed McEnroe. "I don't want to get into the minutiae of why because it's too boring and too frustrating, actually, to have watched this over the course of my professional career, watching tennis shoot themselves in the foot.
Article content
"Hopefully, they won't do it with this, because I've seen them do it on numerous other occasions."
BASELINES — Both singles and doubles are best-of-three sets with ad scoring. In split sets, the third set is a 10-point match tiebreaker. Each player competes in at least one singles match during the first two days. No player can play singles more than twice during the three days. At least four of the six players must play doubles. No doubles combination is played more than once, unless for the decider on Day 3, if points are 12-12. The winning team must reach 13 points. In a tie after all 12 matches are played, a final overtime doubles match — a decider — is played as a regular set with ad scoring and a tiebreak. If only one match is required on Sunday, an exhibition match is played following the trophy ceremony.
Article content
More to come …
Laver Cup: How court-jester Andrey Rublev will land serious blows for Team Europe

Laver Cup: How Felix Auger-Aliassime plans to break 'vicious cycle' of losing early

Laver Cup: How legendary Roger Federer pays it forward to help grow tennis

Laver Cup: How cool, confident Ben Shelton became talk of the tennis world
---
Bookmark our website and support our journalism: Don't miss the news you need to know — add VancouverSun.com and TheProvince.com to your bookmarks and sign up for our newsletters here.
You can also support our journalism by becoming a digital subscriber: For just $14 a month, you can get unlimited, ad-lite get unlimited, ad-lite access to The Vancouver Sun, The Province, National Post and 13 other Canadian news sites. Support us by subscribing today: The Vancouver Sun | The Province.