MOP, maybe?: Adams moves into the CFL passing lead after his sixth game of the year over 300 yards.
Get the latest from J.J. Adams straight to your inbox
Article content
The B.C. Lions put former NFL star Colin Kaepernick on their negotiation list this week.
Article content
Vernon Adams Jr. made sure they won't need to take his calls.
Article content
The Lions QB had 276 yards at halftime before finishing with a CFL-season high 458 yards and three touchdowns, as B.C. finished the Saskatchewan Roughriders with flash and flourish, taking the season series with a 33-26 win at B.C. Place on Friday night.
Adams had the Lions moving at will in the early stages, but they had to settle for four field Sean Whyte goals and two punts on their first six drives, until B.C. broke it open with a Keon Hatcher 34-yard touchdown with 46 seconds left in the half.
It was Adams' CFL-best sixth game of the season with 300+ yards, and put him ahead of Calgary's Jake Maier for the CFL lead. After going 27-of-36 for 458 yards and three touchdowns, the Leos QB now sits at 4,005 yards, while Maier has 3,581 heading into the weekend, though he's played two more games and has thrown 57 more passes.
Article content
Hatcher had 148 yards at the half, going over 1,000 yards for the season, now sitting at 1,103 after his 172-yard night.
Alex Hollins also went over the four-figure mark with a 71-yard touchdown early in the second quarter, on his way to an 83-yard, two-touchdown performance.
Dominque Rhymes had five catches for 92 yards in his first action since Aug. 3.
It was the fourth straight win for B.C. (11-4), who clinched a home playoff game with the result — the first time since the  the 2011 and 2012 seasons the Lions have hosted playoff games in consecutive years.
The result also sets up a massive first-place showdown with the Winnipeg Blue Bombers next week. The Bombers improved to 11-4 themselves earlier on Friday after squeaking out a 31-21 decision over the Chad Kelly-less Toronto Argonauts at IG Field.
Article content
Saskatchewan (6-9) lost its fourth straight, and while GM Jeremy O'Day pointed out the sky wasn't falling the day before Friday's game, dark, brooding storm clouds are certainly gathering over Regina. They have three games remaining, including a road game in Calgary, who play Hamilton Saturday and look to pull within a game of the Riders.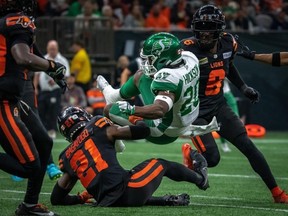 The Lions defence held Saskatchewan in check early, giving up just 45 net yards on four drives, the last of which was snuffed by a Gary Peters interception. Jake Dolegala then led an eight-play, 95-yard drive capped off by an Antonio Pipkin two-yard touchdown to keep the Riders in it, but B.C. pulled away with majors on their first two drives of the second half to take a 33-11 lead.
Article content
Mathieu Betts continued his pursuit of history with his CFL-best 15th sack of the season, putting him just two shy of the Canadian record set by B.C.'s Brent Johnson in 2005 (and tied by Jamaal Westerman in Winnipeg in 2015).
The Lions now led the league with 49 sacks after recording three on Friday.
Adams career passing high is 488 yards, set against the Bombers on Sept. 21, 2019, in his breakout second season with the Montreal Alouettes. 
Dolegala, though he had two picks in the game, still racked up a 400-yard night of his own, hitting 411 and a touchdown on 31-of-46 passing.
Twitter.com/TheRealJJAdams