The B.C. Lions snapped their two-game losing streak, but it was the manner of victory that will matter most to the Leos
Article content
The B.C. Lions needed a win. But what they needed most was this kind of win.
Article content
They were tested. They trailed. They had big plays completed on them, and replied with them in kind. There were turnovers and tantalizingly close touchdowns.
Article content
And in the end on Saturday night at Molson Stadium, they had a 34-25 win over the Montreal Alouettes.
The result snapped a two-game losing streak that cast doubt on the Lions' potential, a pair of slow-start performances against teams with sub-par records.
But Saturday, amid the glowing cellphone lights of the Als' crowds, the Leos (8-4) were shining brighter. Vernon Adams Jr. was 21-of-33 for 306 yards and three touchdowns in his first meaningful action in Montreal since being traded away to the Lions. It was his seventh 300-yard game of the year, the most in the league.
Article content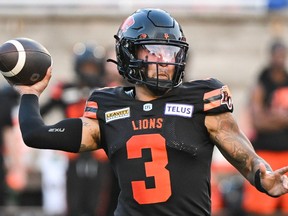 Wideout Alexander Hollins caught two of those touchdowns, including a 62-yarder in the second quarter. Keon Hatcher had a score too, looking like DC's Mr. Fantastic shooting his arms up to haul in a 17-yarder to make put the Lions back in front 23-19 in the third quarter after they relinquished the lead.
Als running back William Stanback punched back immediately with a 69-yard dash up the middle to put the hosts back on top, but while the Lions lacked bite in their previous game, they had sharpened their incisors for this one.
Lucky Whitehead caught a 43-yard bomb in the fourth quarter, then looked to have followed it up with a 33-yard TD snag two plays later, but replays overturned his catch in the end zone.
Facing a third-and-1 on the Alouettes (6-5), the Leos settled for a Sean Whyte field goal from 31 yards to jump back in front by two points.
Article content
---
NEXT GAME
Ottawa Redblacks at B.C. Lions
4 p.m., Saturday, Sept. 16, B.C. Place
TV: TSN. Radio: AM730
---
Montreal was threatening again after a fake punt caught B.C. with their pants down — Jeshrun Antwi took a direct snap and scampered 43 yards down the sideline to the Lions 22 — but Quincy Mauger showed up with his first interception of the year in the end zone.
B.C., the most-penalized team in the league, was the beneficiary of two 15-yard penalties against the Als on a drive with three minutes left, including a command centre initiated flag for roughing the passer that wiped out a Montreal sack.
And the Lions ground game, which was tabbed as ineffective, came to life.
Taquan Mizzell rushed five times for 40 yards on the series, capped off with his first rushing touchdown of the year, a five-yard pitch down the right side with 1:33 left. He finished the game with 14 carries for 68 yards.
Article content
Cody Fajardo was 22-of-35 for 308 yards, one touchdown and two picks, but the second most-sacked QB in the league was taken down five times on Saturday.
Montreal actually outgained B.C. in net yards, 517-427, but their inability to finish cost them. In three trips to the red zone, the Als had to kick three field goals.
Twitter.com/TheRealJJAdams
B.C. Lions: Coach dresses down team that needs to find its 'edge' after two straight losses

Ex-B.C. Lion Rourke clears NFL waivers, to return to Jags on practice roster: Source
---
Summer subscription sale: Our in-depth journalism is possible thanks to the support of our subscribers. For a limited time, you can get full online access to the Vancouver Sun and The Province, along with the National Post and 13 other Canadian news sites, for just $40 for one year or $1 a week for 52 weeks. Support our journalism by subscribing today: The Vancouver Sun | The Province.