The Roughriders' normally anemic pass rush has knocked out two B.C. quarterbacks in two of their last four meetings
Get the latest from J.J. Adams straight to your inbox
Article content
The Saskatchewan Roughriders have cost the B.C. Lions dearly twice in the past two seasons, even if they have only beaten them once in their last four meetings.
Article content
The 2022 season nearly spiralled into irrelevance when defensive lineman Pete Robertson landed on Nathan Rourke's foot, causing a fracture that kept him out until the regular season finale in August and left him at less than 100 per cent for the playoffs.
Article content
There were more heart palpitations in this season's Week 7 when Vernon Adams was buried under a blitzing lineman — Robertson was, again, the culprit — twisting his knee like a pretzel. Initial concerns were eased when he only missed two weeks, but the Lions QB still wears a knee brace because of it.
The Riders (6-8) may have the second-fewest sacks in the league, but those numbers seem irrelevant every time they match up with the Lions (10-4). In both games this season, Adams has been on the run, hearing footsteps both loud and imagined, and been sacked nine times.
Article content
---
NEXT GAME
Saskatchewan Roughriders at B.C. Lions
Friday, 7:30 p.m. PT, B.C. Place
TV: TSN. Radio: AM730
---
B.C. heads into Friday's game without offensive line anchor Sukh Chung and fullback David Mackie, with Andrew Peirson and David Knevel rotating into the starting lineup.
"They've got some great players over there. Their defensive line is stout, their front seven, they're very good. Obviously, that speaks for itself," said B.C. offensive line coach Kelly Bates. "But we worry about us. Obviously we study our opponents … but we're a very process-oriented group. We pick the things that we need to work on that week that we think are their strengths from a technical standpoint and a schematic standpoint, and we work hard on it.
Article content
"Where we want to be Friday night at game time started four or five days ago and that's the way we approach it."
The Roughriders have been exceptional — against B.C., at least — in getting on top of their opposition from the start. In the Week 7 meeting at B.C. Place, the Lions lost Adams in the first quarter after drives of five, 0 and — 12 yards. Dane Evans did choreograph an 84-yard touchdown drive on the next series, but it was back to the grind afterward, with six drives producing four yards and two turnovers before some late field goals pushed the Lions in front for good.
It was a similar story a month later at Mosaic Stadium, with Saskatchewan throttling a potent Lions offence in taking a 31-13 lead before holding on for a 34-29 win.
Article content
"I don't think we've performed to the level we want to and need to, to be considered consistent when we're playing them," said Bates. "It's on everybody … we need to be better."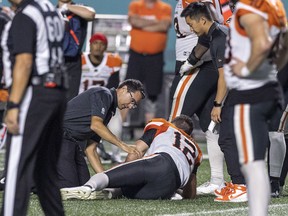 Running back Taquan Mizzell picked a great time to find his running form with his second 100-yard game of the season last week, as an effective rushing attack will blunt any ears-pinned-back pass rush. He had 112 yards and two touchdowns in the 37-29 win over the Edmonton Elks.
And doing anything to keep Adams from being a stationary bull's-eye in the pocket will help too.
"It's big," Lions coach Rick Campbell said of Mizzell's big game.
"We talked last week about needing to get more out of the running back position — whatever that means, from pass pro, to running the ball, to getting the ball in his hands out of the backfield. We said to Smoke 'we need more out of you,' but we also need to help him out with blocking and play calls
Article content
"This is the time of year not just that (running the ball is important) but you're trying to get the most out of everybody.
"They do a good job up front," he added of the Riders.
But "we can't just make it a pass pro competition; that's not good for anybody in this league. That just means we've got to mix things up, move in the pocket, running the ball, running screens — doing whatever it is to to make sure we don't just have our quarterbacks sitting in one spot.
"And VA, we've seen him do really well if the play breaks down or something happens he needs to be a moving target and use his legs to go get a first down."
Adams was smart with effective with his scrambles against Edmonton last week, including a couple late dashes that earned crucial first downs late in the game. He even out-rushed the electric Tre Ford 54-43 in the game.
Article content
He knows there's not much he can do with the pass rush except trust in his team's protection calls and execution, and focus on his progressions.
"It does suck losing Sukh right there. Veteran dude for us," he said. "But these guys (Peirson, Knevel) have gotten a lot of reps. I believe in them.
"You just got to continue just going through the reads," he continued. "If I feel the pressure and I can get out and use my legs and help us out there, do that. If I can get to my check down quicker, do that. Because I know they're coming hot.
"But you can't force anything. Can't overthink anything. Can't assume that they're going to get there. You just have to go through your reads."
The Riders are third in the West, two games up on the Stampeders, but have lost three straight games as they try to secure a playoff spot. B.C. has won three in a row after a two-game slide, including the loss to the Riders, but can clinch a home playoff date with a win on Friday.
Article content
"You have control the odds of what the outcome is going to be, but you don't have control of the outcome," said Campbell. "So we just talked about playing really well and playing fast. Goal No. 1 for any team in this league in the regular season is playoffs; No. 2 is a home playoff game and we've got a chance to do it this week."
NEXT GAME
Saskatchewan Roughriders at B.C. Lions
Friday, 7:30 p.m. PT, B.C. Place
TV: TSN. Radio: AM730
Recommended from Editorial
B.C. Lions: Receiving crew 'feed off each other's successes'

B.C. Lions: Dominique Rhymes, Bo Lokombo returning from injury this weekend

Lions 37, Elks 29: B.C. is heading back to the playoffs