Zhang, who's one of the main attractions for this week's CPKC Women's Open, explained: "It can be simple. Don't think that they're all here to watch you. You just step up to the ball and hit it."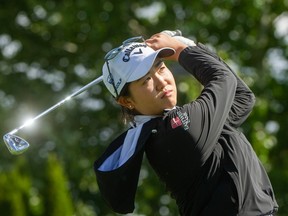 Article content
Leave it to a youngster during a question-and-answer session with LPGA rookie phenom Rose Zhang on Tuesday morning at a clinic at Musqueam Golf and Learning Academy to get the point perfectly.
Article content
"How do you play with all the pressure? How to play with everyone watching you?" she asked as part of the kids' queries.
Article content
It's easy to wonder that with Zhang, 20, who is one of the headliners for the CPKC Women's Open at Shaughnessy Golf and Country Club this week.
She won the Mizuho Americas Open in Jersey City, N.J., in June, becoming the first player to capture top spot in her LPGA debut since Beverly Hanson in 1951. Zhang had turned pro in May, fresh off winning her second-straight NCAA national title with Stanford. That was her 12th collegiate career victory, setting a school record for both men and women. Tiger Woods was among the group that held the previous mark. And Zhang was No. 1 in the amateur world ranking for 141 weeks, also a record.
Article content
"It can be a little nerve wracking when you first start," Zhang told the assembled audience in regards to handling the hype and hoopla. "You just have to accept that. There are a lot of people out there watching you. When you're out there on the course, sometimes you have to tap into a mindset of this is the here and now, and I'm going to try to do the best that I can in terms of what I'm doing and how I'm playing and how I'm hitting."
Zhang had a second thought on the subject as well.
"It can be simple. Don't think that they're all here to watch you. You just step up to the ball and hit it," Zhang replied.
She took a handful of questions from the crowd. She hit some balls. She coached some kids as they came up and took a few swings. The clinic was put on by Golf Canada and First Tee Canada, which pledges to "introduce the game of golf and its inherent values to young people."
Article content
Clinic participants worked on various facets of the sport after her talk.
Zhang, who is from Irvine, Calif., started golf when she was nine. Many of the youngsters there Tuesday were about the page. Zhang talked about how it was important for her to "use my platform."
"I could never have imagined myself to be in this position," Zhang said when asked what golf meant to her. "Not only as a professional athlete, but as a person.
"I knew that golf would take me to meet other people — people of all ages and different cultures. I never expected myself to engage and interact with so many inspiring people. Golf has taken me a long way. I'm really excited for (the kids at the clinic) to get a sneak peak at this game. You can play with anyone — all ages, all statures.
Article content
"I'm really humbled to be someone who can give back to a community that is inspired and wants to go out and try the game of golf. I feel lucky to be able to spend some time here today. It's never a sacrifice."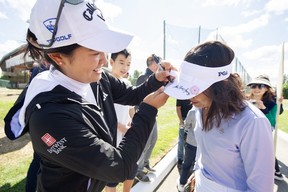 Constanza Ordaz, 9, was among the clinic participants. She has been golfing since she was five and is taking lessons at Musqueam.
"I was really exciting when I heard she was coming today. I get an opportunity to meet a really good golfer," Ordaz said.
Clinic participant Clayton Kimura, 11, who has been golfing since he was five and takes lessons at Musqueam as well, added: "I want to ask her about what's her biggest motivation or who's her biggest motivation to golf."
The event was attended by several Musqueam elders, and Zhang was presented with a paddle afterwards by the band. Musqueam chief Wayne Sparrow explained that it is a "symbol of her journey and her life as she goes forward."
"It's a privilege to have her come down and spend the time with our kids and our elders," Sparrow said. "To be able to welcome her here is very special to our community.
"It gives our community the opportunity to welcome people to our lands and a chance to get to know us and who we are. It was something that has always been stressed by past leaders on our council. Honour them to come and teach them who we are."
Sparrow said that golf is thriving with the band members, particularly since the COVID pandemic shutdowns.