The first official day of Darko Rajaković's tenure as coach of the Toronto Raptors got underway on Tuesday.
Get the latest from J.J. Adams straight to your inbox
Article content
The mood at the first official team day for the Toronto Raptors on Monday was a little tense, a little terse, a little defiant. Media Day is always long, but felt longer with the endless questions about Pascal Siakam's contract talks, OG Anunoby's future, the "selfishness" that permeated last year's team, and the lawsuit the Raps are facing from the New York Knicks over stolen proprietary material.
Article content
On Tuesday at the Christine Sinclair Community Centre in Burnaby, the vibe check was passed. Not even the fire alarm forcing an evacuation minutes into the first day of training camp could spoil the mood.
Article content
"This is all we wanted to do. Playing ball is all we wanted to do," Raptors forward Otto Porter Jr. said with a grin. "The vibe is … better today."
Training camp and preseason is always about a fresh start, but there is a more comprehensive sense of renewal in the team, which finished ninth in the East and lost the play-in game to the Chicago Bulls.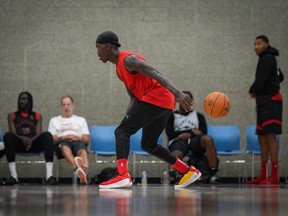 There is a new head coach in Darko Rajaković, who will get his first seat in the NBA after nearly a decade in the league as an assistant. There are new faces too, including the entire coaching staff. There's Dennis Schröder, the veteran guard who added a World Cup title with Germany to an already extensive résumé. And there's new old faces, like Porter, who missed all of last season after foot surgery.
Article content
"It was a great day for us today," Rajaković said after his first on-court session. "Energy was so high, attention to detail was on a high, high level. Obviously, new terminology, new schemes. We talked to our guys and explained why they're doing certain things, but they did a really good job picking up points and going on the first day.
"I don't want to say I'm surprised by the level of attention and care from the guys … but it was really, really high."
Tuesday was also the first official day of Schröder's reunion with Rajaković, who was an assistant in Oklahoma City when Schröder played there for five seasons. The German point guard said that the hiring of Rajaković was the main reason he chose Toronto and signed a two-year, $26-million deal.
Article content
"What I love about coach is that he keeps everybody in the locker room accountable," said the 29-year-old. "(In Oklahoma), we had Russell Westbrook, we had PG (Paul George) and he kept everybody accountable. It's not to take them down, it's to lift them up … from the first player to the 15th player.
"That's what I really like about Darko as a person. He's a family person. We had a lot of breaking bread together in Oklahoma. His family (is) close to me as well. … It was an easy decision for me to come here because I know what he's about.
"He loves to talk and he cares about you. He really wants to know what your situation is. If it's family, it's a basketball, off the court … he wants to talk to you and he really means it. That goes a long way. I think everybody respect that."
Article content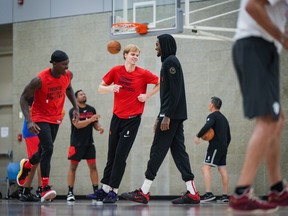 Schröder is coming off a summer with the German national team, leading his country to glory at the 2023 FIBA Basketball World Cup, and being named the tournament MVP in the process. It was a heavy workload, and he's only recently resuming basketball training, but is looking forward to the challenge of helping turn the franchise's recent fortunes around.
"I don't ask people for something I don't do," he said. "Every single day, I go out and give everything I have to get better as a player, as a person. That's what my leadership is about. I don't really talk that much. Sometimes when something has to be said, of course, I say something, but I try to lead by example. And I'll try to do it here as well.
"Darko was the first the reason why I came, but I mean all the other guys, the style of play, defensively, I think I fit in here. Playing defence, and then play off of our defence. Play fast, kick the ball ahead. It's almost like the national team.
"Everybody's professional. Everybody cares about winning. Everybody puts the ego to the side, and we play team basketball. That's what we did this summer with the national team, and I've tried to bring this to this locker room. If everybody can get on the same page, I think we can do something."