Dakota Joshua played with pace, persistence to change the conversation about his shortcomings
Get the latest from Ben Kuzma straight to your inbox
Article content
When coaches and players talk about "the process" during the NHL regular season, it's usually a verbal crutch to prop up a bad mistake. 
Article content
That hockey vernacular is more acceptable in the pre-season where it is all about the process. Forget about the dashes and the dangles and circus shots. It's about playing at speed and being connected as five-man units with clean exits, smart transitions, not turning over the puck or coughing up odd-man breaks.
Article content
The Canucks checked those boxes against the Edmonton Oilers on Wednesday, but it was Connor McDavid taking a long lead pass in overtime to out-leg defenders and going to the backhand to give his club a 2-1 victory.
"I really liked the effort," said Canucks coach Rick Tocchet. "Some of the guys we acquired played really well for us and some of the young guys and the veterans. We had two really good practices the last two days and it really helped our game today. Good effort.
Article content
"I'm not worried about the score, I'm more worried about the guys doing the right things and we've got to work on our game management. Sometimes, we get a little too risky."
Here are five developments that stood out for the Canucks:
---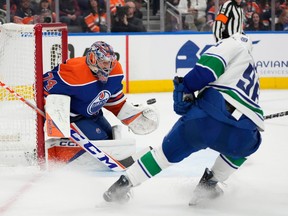 1. Joshua answers the challenge
Tocchet likes Dakota Joshua, but the bench boss needs a fit and focused Joshua.
"I thought he was moving his feet tonight," said Tocchet. "It's a step in the right direction and he's got to keep chipping away. A good effort and now it's consistency. I'm glad he responded."
Last season, the head coach lamented too many nights where his club didn't have enough bite or was playing soft. When Joshua is at his best, he brings pace, push, forechecking, crease-crashing presence and shot blocking to the penalty kill.
Article content
However, Joshua, 27, got some tough love from Tocchet to remind the big winger that roster spots are earned and not given. He got the message.
After all, Nils Aman, Teddy Blueger and Jack Studnicka could be a fourth line. It's up to Joshua to change the conversation in the final year of his contract.
Joshua threw a heavy sideboards hit on his first shift, got McDavid off his game with aggressive neutral-zone play and got in the lane to block a power play shot against the league's best power play that operated at an insane 32.4 per cent accuracy last season. He also drew a penalty when a frustrated Darnell Nurse drilled him into the end boards and finished with three hits.
Blueger was also good on the PK and had good one-handed scoring chance.
Article content
"He was everywhere tonight," acknowledged Tocchet. "That's why we got him. He's a character guy. In an exhibition game but he played like it was a regular-season game."
---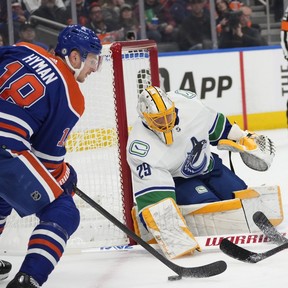 2. DeSmith shows he's got game
The Canucks need starter Thatcher Demko to carry a significant workload.
But how much is too much? To guard against fatigue that could invite injury, they needed to acquire a proven backup goaltender who could spell off the starter and play at least 25 games.
And that's Casey DeSmith's pedigree. Reliable and resilient.
Acquired from the Montreal Canadiens last week for Tanner Pearson and a 2025 third-round pick, the 32-year-old veteran played 134 NHL games for the Pittsburgh Penguins. DeSmith was sharp Wednesday with 27 saves through regulation. He displayed a calm and square crease demeanour and didn't have his head on a swivel against the speedy Oilers. Not that it was easy.
Article content
"Casey has done that before," said Tocchet. "In Pittsburgh, he wouldn't play for two weeks and come in and play really well and he looked big out there tonight."
On a delayed penalty in the first period, he saw McDavid blazing off the left wing and trying to put the puck high to the short side while the stopper wasn't quite tight to the post. But he didn't lose his focus and calmly kept the vaunted Oilers' power play from clicking with five chances on two opportunities before they finally got to DeSmith. He was a touch late going post-to-post, which allowed Ryan Nugent-Hopkins to convert a corner feed.
---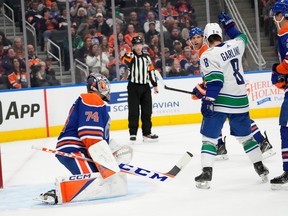 3. Studnicka shows us something
The winger vowed to have a summer like no other. And he kept his promise.
Studnicka, 24, added 10 pounds of muscle, more quickness and resolve to rebound from a sub-par season, but is in tough amid of glut of wingers. He's also in the final year of a two-year extension signed with the Boston Bruins that carries a US$762,500 salary cap hit.
Article content
While Studnicka is a financial fit, he was a frequent healthy scratch — including 10 of 11 games in March — and was challenged by Tocchet to find consistency and better puck decisions to make him more of a bottom-six roster staple than an option.
He looks like a different player.
More engaged and stronger on puck, he showed just that in the first period when he got deep in the O-zone and confidently wheeled to look for passing options. He almost scored in the second period when Aman chose to pass rather than shoot and it would have been a tap-in for the charging Studnicka, had the puck not hit a defender. He had one shot, five attempts and three hits.
Studnicka was also strong on the penalty kill with good position and a good stick.
Article content
---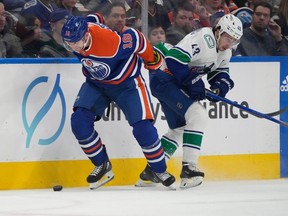 4. Hughes shows shoot-first mentality
The new captain was often up to his old tricks with his sublime skating and edge work allowing easy zone exits against the Oilers. He threaded passes and defended well, but wants to add another offensive dimension.
He has yet to hit double digits for goals, his career high is eight in 2021-22, but he's a good bet to exceed that this season. Hughes is better at getting shots through from the point with more accurate wrist and slapshots. But he's also willing to get to the net from the point to create mismatches, or do something off the rush.
On Wednesday, his first power play point shot found iron, but his second deflected off Evan Bouchard and past Stuart Skinner. Hughes also had a good chance with a good dangle to the side of the net.
"It's the skill level," marvelled Tocchet. "Walking the blueline and that's elite stuff."
---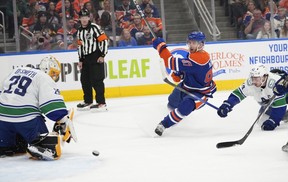 5. Pettersson stronger in the circle
Elias Pettersson wanted to add off-season strength for puck battles and to be better with draws.
He made deft dishes against the Oilers but his presence in the faceoff circle was the best development. He went 12-for-15 for an 80 per cent efficiency rate. Last season, he was 44.3 per cent in the circle.