It's no secret the Raptors struggled from behind the arc last season, and it's one of the main issues new coach Darko Rajaković has his eyes on
Get the latest from J.J. Adams straight to your inbox
Article content
Positive mindset: There were two teams the Toronto Raptors outshot from behind the arc last season.
Article content
Negative mindset: There were only two teams the Toronto Raptors outshot from behind the arc last season.
Article content
In the modern NBA, where every position needs to be able to shoot three-pointers, the Raptors were lacking. There wasn't a single player in the league's top-50 of 3-point percentage, and losing their most prolific shooter in Fred VanVleet in free agency isn't going to help their floor spacing.
It's no secret that's the area they come into 2023-24 wanting to improve, and that's an area new head coach Darko Rajaković has a plan to fix.
Not that any of it was on display at the Christine Sinclair Centre in Burnaby this week. The Raptors training camp is thoroughly blacked out and blocked off to any potential observers, including any Raptors-jersey wearing kids hoping to catch a glimpse of their heroes.
Article content
"Obviously, I have my thoughts and talking to the coaching staff we can certainly envision for our team, but we also don't want to be close-minded," said Rajaković. "Every single practice, every single conversation, everything we see on the floor, we're gonna break down. We're gonna be learning as much as players."
The Raptors finished .500 last year at 41-41, ending the regular season in ninth before losing the play-in game to Chicago.
Their eFG (effective field goal percentage) was third lowest in the league at 51.7, with their opponent eFG even worse at a 56.5.
Their three-point percentage was off-target everywhere except the closer corner threes, where they actually ranked among the league's best.
But offensively overall, it was a struggle, and the result cost Nick Nurse his job in April.
Article content
From his pre-camp conversations, and what he's seen so far, Rajaković feels his team can rebound.
"Everybody can change if there is a willingness to change. And I think that our guys today in the first practice, showed, that great intention. We did a really good job of moving the ball and playing a much higher pace in the half court," he said.
"It's gonna be a change," he added of the new terminology he's instituted.
"It's gonna be a change for them for sure. It's gonna take a minute. We need to stick with the process and we need to continue the grind."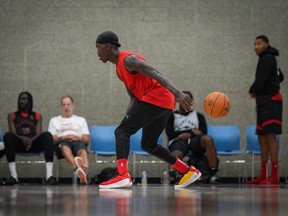 "He's a player's coach," said forward Otto Porter Jr. "He's always asking questions to the players. He needs feedback from us; what we see, how we feel out there. It's a team game, and he's gonna put us in the best position to succeed."
Article content
And if there was an incumbent who could help, it's Porter.
The former third overall pick missed most of last year after having surgery on his left foot, continuing the long list of maladies that have kept the former Bulls star from living up to his lottery pick status.
The 6-8 forward is only five years removed from his career peak of 17.5 ppg, but showed in the Golden State Warriors 2022 title run that he can still be an effective force.
"It feels good to be back," said Porter, who shot over 40 per cent from behind the arc in his last two playoff runs, and has a career-best long-distance percentage of 48.8.
"Of course, having to deal with that last year, just trying to move forward this year. Getting back to where I can play."
Article content
"He did a really good job during the summer with rehab" said Rajaković. "The goal for him is to be ready for a training camp and he went through the whole practice day with the team, so that's a great sign for us.
"We're gonna go step by step from there. We're gonna ramp it up by as is we had planned and hopefully he's going to be ready for the start of the season."
Porter is among the veterans who Scottie Barnes thinks can help get them back to their status as contenders in the East.
"I think the vets we've got right now, you know, they just come and bring a lot of energy," he said. "They're bringing more energy, they're bringing more positivity to the situation.
"I feel like that's really just the difference between this year last year."
x.com/therealjjadams
Recommended from Editorial
Mood, energy upbeat on Day 1 of Raptors training camp in Burnaby

Raptors to play exhibition game at Rogers Arena for first time in five years