Saturday's Western Semifinal is a repeat of last year's game, and a chance for the B.C. Lions to wash the taste of their regular-season-ending loss to the Calgary Stampeders out of their mouths.
Get the latest from J.J. Adams straight to your inbox
Article content
"I don't think it's about getting revenge," said B.C. Lions head coach Rick Campbell, his face screwing up at the mere notion of such unsophisticated motivational tactics.
Article content
"(Revenge) definitely hasn't been the focus."
Article content
But …
"It's … a little bit of redemption," said Lions receiver Justin McInnis, nodding sagely. "Got to get them back for last time."
Well, OK then.

While coach and players may have conflicting thoughts over the B.C. Lions' impending playoff matchup with the Calgary Stampeders, their goal is the same: take care of business Saturday.
When the Stamps came into B.C. Place two weeks ago, fighting for their playoff lives, the Lions seemed almost indifferent as Calgary lifted their leg on the figurative fire hydrant, staring B.C. in the face as they asserted themselves in a dominant 41-16 win.
---
NEXT GAME
Western Semifinal
Calgary Stampeders vs. B.C. Lions
Saturday, 3:30 p.m., B.C. Place
Article content
TV: TSN. Radio: AM730
---
They didn't know it at the time, but it was a playoff preview, as the Saskatchewan Roughriders face-planted the next day against the Toronto Argonauts (29-26), capping off a stunning seven-game dive-bombing right out of post-season contention.
The Stamps' game against B.C. meant everything to them; it meant nothing to the Lions, beyond a half-hearted token attempt to keep the pressure on Winnipeg for first place in the West.
But everything is on the line Saturday in the Western Semifinal, a virtual replay of last year's semi with the same teams, same place, same stakes.
"It's playoffs, man," said McInnis. "It's just a different nature — different ball game. You do want to put the regular season to bed and just focus on the playoffs.
Article content
"We've play them three times (in 2023), so we have a good feel for what they're going to do. Again, it's just about us; we just gotta go out there and execute like we've done twice this season."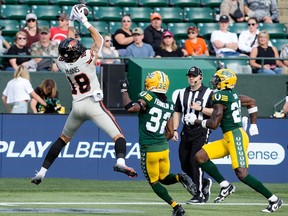 "It's a playoff," added Campbell. "People are so focused on the playoffs and wanting to do well. Obviously we watched that (Oct. 20) game film, but we don't talk about when we beat them here, we don't talk about it when we lost here. It's just playoff football and people wanting to advance."
The Stamps might have a little revenge/redemption on their mind, though, having lost 30-16 to B.C. in last year's semi at the Dome. That game turned on two short-yardage plays in the third quarter — first on Dave Dickenson's failed third-down gamble on the B.C. 19-yard line, with his team trailing the slugfest 13-6; and then when the Lions broke open the game with a fake sneak on the ensuing series, with Antonio Pipkin hitting Keon Hatcher for a 45-yard touchdown.
Article content
"I've watched that film plenty … " said Stamps quarterback Jake Maier, who was a rookie then, going 12-of-22 for 138 yards before being replaced by Bo Levi Mitchell in the fourth quarter. "I'm kind of glad at this point that I went through something like that because I feel much more confident and much more prepared going into this one.
"I learned a lot — the hard way … " he said. "(I) learned how to manage situations in high-pressure situations … and making the plays when they're presented. We just didn't make enough of those last year."
Calgary had to scratch and claw their way to the post-season, and headed into their Week 18 bye on a three-game slide, their playoff hopes only alive because of the 'Riders' ineptitude. But they're here, and they don't care how they got here.
Article content
"It feels like almost a reset," Maier told Stampeders.com. "Everything that we've done to this point has been nothing more than a learning experience.
"One of the bigger things in the playoffs is the records get thrown out. Everything that you've done leading up to this point gets thrown out the window, and it's just who can be better that night. And if we're better that night, then great. And we like our chances.
"We feel like we belong, so that's the most important thing."
Dickenson and his team reviewed what they did ahead and during the playoff game last year to see if there were any additional lessons to be learned.
"We looked at what we did, how we practised, what mindset we came into the game with, watched the game," he said. "They had a week off last year as well, so you should expect some new stuff. We just have to adjust on the sideline. When a team has a week off for the game, you should expect trick plays, you should expect things that maybe they haven't shown all year and problem is you don't know what they're gonna be."
Article content
One switch-up will be the insertion of McInnis into the starting lineup at the expense of Lucky Whitehead, meaning he has yet to start a playoff game in his time in B.C.
McInnis was one of the few blossoms to sprout from the last game against Calgary, pulling in 108 yards as an 11th-hour starter in place of Hatcher, who was held out after aggravating an injury in warm-up.
The former 'Rider will mean the Stamps have to contend with three receivers over six-foot-two, all with different profiles and strengths.
"I think it's gonna be tough. We definitely got the size advantage," said McInnis. "To see the level of athleticism that we have as a group, it's a bit scary to opposing defences. And these guys play us completely different then they play anybody else. It's always a little different challenge to game-plan against them, because they always do something different against us, but again, the athleticism and the size we got at the receiver group, it's going to give them a challenge for sure."
Article content
"He's (McInnis) been very good, very consistent, productive … he's just too productive of a player to have standing on the sidelines," added Campbell. "You watch our receiving crew … it's a big group. It helps when you're trying to fit balls and tight windows or people are covered. DBs can be in the exact right spot and still lose the battle. That's definitely a comfort level for a quarterback."
x.com/TheRealJJAdams
Recommended from Editorial
Calgary Stampeders confident they can earn another clutch road win over B.C. Lions

The difference between the B.C. Lions being on the right and wrong side of a blowout: poise
---
Bookmark our website and support our journalism: Don't miss the news you need to know — add VancouverSun.com and TheProvince.com to your bookmarks and sign up for our newsletters here.
You can also support our journalism by becoming a digital subscriber: For just $14 a month, you can get unlimited, ad-lite access to The Vancouver Sun, The Province, National Post and 13 other Canadian news sites. Support us by subscribing today: The Vancouver Sun | The Province.