Ashley Zibrik: "There's been a few people who have told me that they haven't tried golf before.  I tell them 'what a time to try it.'"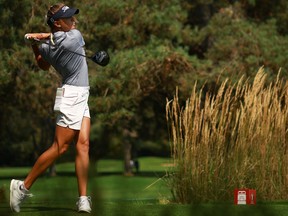 Article content
Women's golf in B.C. is flourishing and Ashley Zibrik hopes the CPKC Women's Open will be a further boost.
Article content
"I think we definitely got a few people interested," said Zibrik, who's the director of golf and head pro at the Shaughnessy Golf and Country Club, which is hosting the LPGA tournament this week.
Article content
"I've been walking the grounds and I'm meeting people every day and there's been a few who have told me that they haven't tried golf before.  I tell them 'what a time to try it.' It's a game that you can hopefully play forever.
"Somebody told me this week that golfers live five years longer that non-golfers. If that's not a proven fact, I'm going to go ahead and believe it anyway, because it seems like a good enough reason to get into golf."
COVID-19 was one reason why some people got into golf, which was relatively safe and social during the height of the pandemic restrictions.
Article content
Golf Digest reported in January that the World Golf Report — an economic study of the global sales of golf equipment and apparel conducted by Golf Datatech and the Yano Research Institute of Japan since 2015 — listed the golf industry as increasing to $20 billion in 2021 before coming in at $19.7 billion in 2022. That's more than a 30 per cent increase since 2019.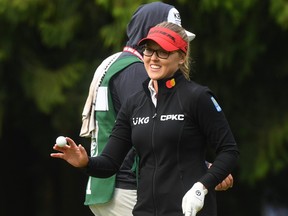 Golf Canada says about 150,000 more women have registered than the number from a decade ago. Golf Canada chief marketing officer Tim McLaughlin says there's been a "concerted effort on the part of the industry to make the sport more inclusive."
"Organizations like Golf Canada and all the provincial associations have focused on driving participation with women," he said.
Article content
Zibrik says there are golf pros in B.C. who are thinking "outside of the box to get women engaged and it's mostly including social components." She pointed to things such as Birdies, Babes and Beats, a class designed for women by pro Courtney Campbell-Leveck of Gleneagles in West Vancouver. 
"If people are having fun, they're going to come back," Zibrik said. "There's added entertainment to the programming. It's not come out for an hour, hit, and then go home."
McLaughlin says the CPKC Women's Golf gives Golf Canada an opportunity to "showcase the amazing power of women's professional sports," at the same time they can "create a lot of impact at the grassroots level for women in golf."  They held a women's leadership conference earlier this week and also had a kids clinic with American rookie sensation Rosie Zhang at the Musqueam Golf and Learning Academy.
Article content
Zibrik notes the 15 Canadians who started in the field this week at the CPKC Women's Open as evidence of the growth of the sport.
Zibrik was named president of the PGA of B.C. in February, becoming the 42nd person to take on the roll in the association's 92-year history but the first woman. She's been in her current job at Shaughnessy since 2019 and is the first female director of golf and head pro in the club's 112-year history.
"Some of the players this week are surprised meeting me. I can see it in their faces. They're expecting the head professional to be a man," she said. "I can't tell how many woman head pros there are across the country. It's not very many. We have 90 per cent males in the industry, I believe. We're slowly increasing our numbers.
Article content
Zibrik had a successful playing career at Boise State and is a two-time winner of the PGA of B.C. women's championship.
"You always dream when you're younger of playing on the LPGA Tour. I may not be playing at this tournament, but I am helping host it. There's a lot of pride in that," she said.
@SteveEwen
---
Summer subscription sale: Our in-depth journalism is possible thanks to the support of our subscribers. For a limited time, you can get full online access to the Vancouver Sun and The Province, along with the National Post and 13 other Canadian news sites, for just $40 for one year or $1 a week for 52 weeks. Support our journalism by subscribing today: The Vancouver Sun | The Province.