Shaughnessy has proved itself as a championship course more than once, but with a 2032 closure deadline looming large, could a men's Canadian Open happen one last time?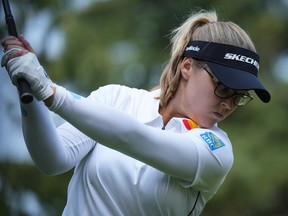 Article content
There is little doubt that the course at Shaughnessy Golf and Country Club is championship calibre.
Article content
Canadian star Brooke Henderson had a tough opening round on Thursday, scoring a three-over-par 75, but bounced back Friday, firing a four-under 68 in her second round at the CPKC Women's Open, keeping her alive going into the final two rounds this weekend.
Article content
Organizers, fans and the player herself were breathing a big sigh of relief Friday about her play, given the three-over she started the day on would have seen her miss the cut if she hadn't found a way to improve her score.
"I feel like the more you play a golf course the more you learn it, and in theory the better you're going to play it. I feel like the more times you can see this tricky golf course the better off you are. I feel like by Sunday I'll be all set," she said with a big smile.
Article content
"It's definitely target golf, and very much a ball-striker's course. So today, my ball-striking was on and I feel like that's why I shot four-under, whereas yesterday my ball-striking was not so good, which was three-over."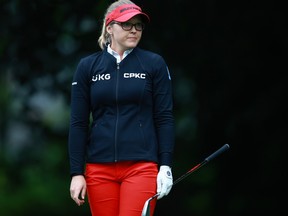 Linn Grant said she loved the setting of the course, with the fairways nestled between tall spruces, cedars, hemlocks and Douglas firs.
"I like the course. I think it's great. I like courses that require good golf," she said. "Big trees, tree lined, some tricky greens. I think it's a great golf course."
It's the first time Golf Canada has brought the national women's professional championship to Shaughnessy. The course, which has small greens and tight fairways, is the perfect host for top-level golf.
Article content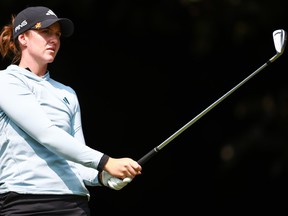 Shaughnessy has hosted the event well. In terms of tents and sponsorship spaces, this is the largest women's event Golf Canada has ever hosted.
But the course is likely to close in 2032. It's the biggest open secret in Vancouver golf circles — when the club's lease with the Musqueam Indian Band expires.
All indications have been that the band intends to develop the land, which is on the Musqueam Reserve, when the lease comes up.
The Supreme Court of Canada ruled in favour of the Musqueam in 1984 in what's now known as the Guerin ruling. The court found that the Crown's Indian Agent misled the Musqueam about the terms of the lease, which were much less favourable that the Musqueam people had been told they would be.
Chief Wayne Sparrow, who has served as the elected head of the Musqueam Indian Band since 2012, said there are no definite plans to extend the course's lease.
Article content
"We have to consult the community," he said.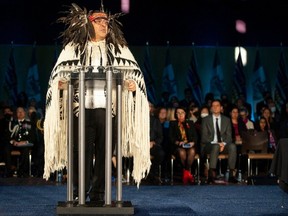 But even before that, there are some big-picture issues that the Musqueam has to take care of. Housing, for instance.
"We have to give our community members a chance to move back home. We have homes we need to build," he said. "We have 350 community members looking for a house."
And the Musqueam community's need for housing is only going to grow, with a majority of the band's membership under the age of 18, he said.
There are a number of other deals that the Musqueam are working on that might affect where the band can build, Sparrow added, but right now, the priority for the Shaughnessy land after 2032 continues to be to build housing.
"If things evolve, things (at Shaughnessy) could change," he admitted.
Article content
Asked Thursday about what successfully hosting the CPKC Women's Open might mean for Shaughnessy's future, course superintendent Andrew Hart deflected, offering a simple answer on his focus: "The goal for us is to host the best possible playing conditions that we can for our membership. That's what we're looking to do on a daily basis. I don't think that's going to change in any given year."
There had been chatter when Shaughnessy was first set to host the women's tournament in 2020 that if things went well, maybe they would get a chance to host the RBC Canadian Open before the curtains closed on the course.
Shaughnessy has hosted the RBC four times before, most recently in 2011.
It's not impossible for that to still happen, but the advantages of being at a course near Toronto are pretty obvious.
Article content
There is a home-town element to hosting tournaments in the GTA — fans get a familiarity to the event and the players, plus there is no doubt there will be big money from Bay Street.
Next year's RBC is in Hamilton. A host has yet to be announced for 2025, but it seems likely the RBC will remain in the east. And Oakdale Golf and Country Club in Toronto, which hosted the tournament this past June to great acclaim, will host again in 2026.
There is a chance that Shaughnessy will get another crack at the national championship before the 2032 deadline.
It's just far from certain.
CPKC Women's Open: Yuka Saso sets up remarkable finish in first round

The Rink: CPKC Women's Open's 17th hole is a hockey-inspired test

LPGA phenom Rose Zhang hosts kids' clinic at Musqueam, gives straight goods on pressure in Q&A
---
Summer subscription sale: Our in-depth journalism is possible thanks to the support of our subscribers. For a limited time, you can get full online access to the Vancouver Sun and The Province, along with the National Post and 13 other Canadian news sites, for just $40 for one year or $1 a week for 52 weeks. Support our journalism by subscribing today: The Vancouver Sun | The Province.