Elizabeth Irving, who turns 19 next month, was 10 when she first sang the Canadian and American anthems before a game against the Nashville Predators in November 2014.
Article content
Not quite 20 yet, Elizabeth Irving begins her 10th season as an anthem singer with the Vancouver Canucks when they hold their home-opener on Wednesday against the Edmonton Oilers.
Article content
It should be no surprise since both hockey and singing have been big parts of the New Westminster native's life.
Article content
"When I was born, I left the hospital and went straight to the ice rink to watch my brother's hockey game before I went home," the third-year student at Capilano University said. "So I'd say that hockey has really been in my life from the very beginning."
She first sang O Canada (and The Star-Spangled Banner) for the Canucks' crowd on Nov. 2, 2014, a poppy pinned to her sweater above the orca logo. The Nashville Predators were the visitors and when the crowd roared as she finished, little Liz waved in appreciation.
It's her patented sendoff now.
Sprinkled throughout the roster that night were names such as Vey, Matthias, Bonino and Sbisa. Willie Desjardins was the coach.
Article content
How long ago was that?
It was half of Irving's life ago. She's such an old-hand at this, Rogers Arena employees know her by name, and who wouldn't: She makes a point of greeting every security guard, usher and Olympia driver she meets, and high-fives them in the tunnel after her performance.
It's something her parents, Peter and Yolanda, once told her, that people would remember what sort of person she is a lot longer than they would remember her performance.
"These people have watched me grow up, in a sense," said Elizabeth.
Having 18,000 people join in gives her a huge sense of inclusivity in a divisive time, she said. Singing in front of empty stands during COVID-19 sucked, she adds, and taught her to not take those special moments for granted.
Article content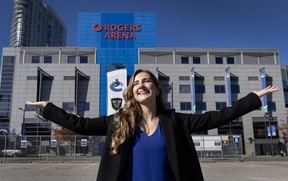 Her YouTube channel features covers of Leonard Cohen and the Carpenters, as well as her own songs.
Asked about being the third or fourth person to cover Hallelujah, Irving laughed.
"Three or four? Oh my goodness, I bet maybe there's a million."
According to her folks, Irving was singing before she could talk.
"I was super-little, it was my form of communicating with my Barbie dolls, with my family, with my friends," she said. "Music was just my go-to, always."
Seeing that, her parents enrolled her in the Lindbjerg Academy of Performing Arts in Vancouver. Her first show was a part in Grease (the junior version) and she was in love with performing.
"I was able to express myself freely. I was with like-minded individuals who also loved music and were super-nerdy about the performing arts, like I was.
Article content
"I just fit in perfectly with that crowd."
Her stage studies included tap dance, ballet and voice lessons, and she wound up getting the lead in Dear Edwina, a "dorky and fun" kids' musical.
"That was the first time my love for music and the performing arts was put to the test," Irving said. "I was put onstage in front of all my family and friends, all my classmates, and I was overcome with the art of musical theatre.
"I loved it, I was in my place. I was so comfortable, I wasn't nervous. My parents tell me now they looked at each other and at the audience, and said, 'Yeah, music is her thing.' "
That's fine, but performing at Canucks games — and in front of 70,000 people on Oct. 22 at Lumen Field when the Seattle Seahawks celebrate Canada Appreciation Day — requires another form of training, perhaps? A course in toughening-up?
Article content
Irving has two older brothers, Jamieson and Jonathan. She's sung the national anthem at Coquitlam Express games when Jonathan played for that junior hockey team. It was cool being on the ice at the same time as her brother, she said, and it was from that first time performing at the Poirier Sport and Leisure Complex that led to her auditioning as a Canucks' anthem singer.
"It was interesting having two older brothers. A lot of people ask me if I wanted a sister. My answer may be surprising, but no. I really enjoyed growing up with my brothers.
"I mean, I was always the one blamed for their mistakes, or the one who was put in the goalie net and slap-shotted at, or coerced into their antics, but I wouldn't trade any of it for the world.
Article content
"They taught me to have a little bit thicker layer of skin.
"I think I'm singing with the Canucks now partly because of them."
Recommended from Editorial
Canucks preview: What makes Rick Tocchet tick? His coaching confidant knows

The salary cap trick that may save the Canucks' opening night roster plans
---
Bookmark our website and support our journalism: Don't miss the news you need to know — add VancouverSun.com and TheProvince.com to your bookmarks and sign up for our newsletters here.
You can also support our journalism by becoming a digital subscriber: For just $14 a month, you can get unlimited, ad-lite access to The Vancouver Sun, The Province, National Post and 13 other Canadian news sites. Support us by subscribing today: The Vancouver Sun | The Province.