It almost always works. Even when it doesn't, the Eagles do it again.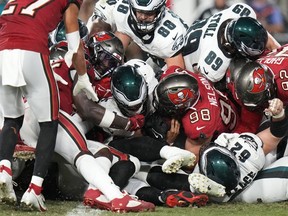 Article content
TAMPA, Fla. — The most unstoppable play in the NFL was on full display under the bright lights Monday night.
Article content
When the Philadelphia Eagles need a yard, they often resort to the "tush push. "
Article content
Quarterback Jalen Hurts lines up under centre with two or three players behind him. He takes the snap, the offensive line surges forward and Hurts gets a big push from behind.
It almost always works. Even when it doesn't, the Eagles do it again.
Hurts was stopped short of the end zone on third down from the one-yard line in the third quarter of a 25-11 victory over the Tampa Bay Buccaneers on Monday night. So Philadelphia went for it on fourth down. Tight end Dallas Goedert, running back D'Andre Swift and wide receiver A.J. Brown provided the push from behind and Hurts crossed the goal line for a touchdown that made it 20-3.
In the fourth quarter, the Eagles did it successfully for the fourth time against the Buccaneers to extend a drive that chewed up the final 9:22.
Article content
Philadelphia had tremendous success with the "tush push" last year on the way to reaching the Super Bowl, going 37 for 41. Opponents hate it because they can't beat it. Enough complaints by other coaches led to discussion about potentially banning the play but the NFL's competition committee didn't come up with a rule to be put to vote that would prohibit it.
The Eagles can do it as often as they wish this season. The play has been legal in the NFL since 2005 when the league removed the language in the rule book that prohibited pushing offensive players. But no team has taken advantage of it quite like the Eagles under coach Nick Sirianni and Hurts.
It helps having a quarterback who can squat 600 pounds and a dominant offensive line that features All-Pro center Jason Kelce, Pro Bowl left guard Landon Dickerson and All-Pro right tackle Lane Johnson.
Article content
"Obviously it's a play that we've had a lot of success with over the last few years and it's just a physical play," Goedert said. "Jalen does a good job finding the weak spot of the zone. They were trying to jump over the pile today but I was ready for that in the back. If we need a yard, we're gonna get a yard with our o-line. … Jalen is gonna fight for it."
On the sneak that resulted in a TD, Goedert put his arm around Hurts and tried to lift him in.
Article content
"I was yanking him for sure," Goedert said. "They say you can't pull but I was behind him."
The Buccaneers tried a different strategy by having defensive linemen leap over the offensive line to try to stop Hurts.
"We've seen it with linebackers but their nose tackle was trying to jump over, too," Goedert said. "It's one of those things where once they get their feet off the ground, it's better for us so if they jump, we're going to get that (forward) movement for sure. It's a risky play for them. I think they need to get (Steelers Hall of Famer) Troy Polamalu to time it up perfectly. That's the only shot they got."
Dickerson summed up the key to success.
"Execute your assignment," he said.
In a copycat league, other teams have tried it. The Colts, Jaguars and Bears failed their attempts in Week 1. Nobody matches Philadelphia's success rate and frequency.
Article content
"Not everyone has Jason Kelce, Landon Dickerson, Cam Jurgens. Not everybody has Jordan Mailata. Not everybody has Lane Johnson on the other side. Not everybody has that type of quarterback," Sirianni said last week. "We noticed that last year when people were making maybe some big deals about it. There are a lot that are unsuccessful … But there is clearly a talent to it that our guys have, because it's not as — maybe it's automatic right now for the Philadelphia Eagles — but it's not automatic around the NFL.
Recommended from Editorial
Taylor Swift fans think she left Travis Kelce suite in a popcorn cart: 'SHE'S IN THERE'

Las Vegas Raiders' Jimmy Garoppolo is in concussion protocol after loss to Steelers
"I get that some people are complaining about it, but stop it. Stop the play. It's not as automatic as people think as we're seeing across the NFL. Our players make it work, right? Frankly, us as coaches aren't doing anything. We're calling the play and the players are going out there and making it work. Now, we did a lot of studies on everything in the offseason to help ourselves be even better at it, but it's about those guys up front. It's about Jalen. I think we would be pretty successful without the push, but we're just pushing them sometimes to give that extra thump."
The Eagles even tried to fake a "tush push" in the third quarter, perhaps to give defenses something else to consider. Hurts started to drop back but he stumbled and was tackled for a loss.
"I don't think it's stoppable two plays in a row. I think we had one or two here and there," Buccaneers coach Todd Bowles said. "That's a lot of weight on both sides. It's a great play that they got. They crafted it. The offensive line coach does a great job. They have a big athletic quarterback and you got push behind so it's going to be tough. But we knew that going in."