The idea is to draw on the instinctual energy that Canadians bust out when they're watching a hockey game.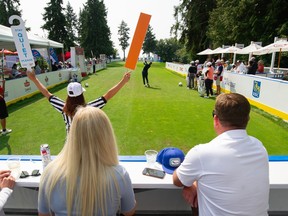 Article content
When you say golf clap, the meaning is clear: respectful applause is as loud as a golf course is supposed to get.
Article content
At the CPKC Women's Open this week at the Shaughnessy Golf and Country Club in Vancouver, the par-3 17th hole will be about more than just golf claps.
Article content
Echoing a setup that the RBC Canadian Open has used on its 14th hole since 2017, the penultimate hole at this week's tournament is ringed by fencing to look like hockey boards, with rinkside seating, a Zamboni parked next to the fairway and goalie masks prominently displayed.
The course marshals are dressed in striped polos, styled after hockey referee jerseys.
The women's event had a similar setup last year.
In this raucous atmosphere, fans are encouraged to reach over and bang on the boards.
The aim is to draw on the instinctual energy that Canadians bust out when they're watching a hockey game.
Article content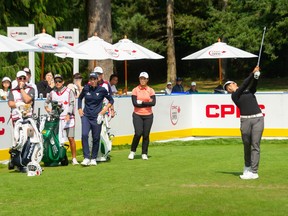 The wild scenes at the 17th hole at the WM Phoenix Open in Arizona are an obvious inspiration, but the fans here get to be practically on top of the players.
"We wanted to create an experience that oozed Canadiana. We know Canadians love hockey and, of course, they love golf, too. Combining rinks and links was a no-brainer," the RBC's Brent McLaughlin said of the setup that was inaugurated in 2017.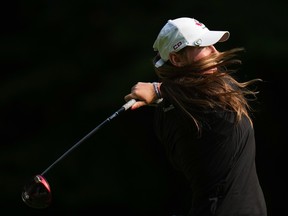 Brampton, Ont.'s, Brooke Rivers is playing her first professional event and after shooting a one-under 71 in her first round, she was beaming.
"It's a really cool spot," she said. "To have everyone watching and cheering and banging on the boards when you hit a good shot."
At 41, fellow Canadian Alena Sharp has played plenty of golf in her professional career. She finished her opening round a solid 3-under and she was pleased how well it all came together.
Article content
And the noise on 17 was fun — and she's hopeful it will get louder.
"It's great," she said.
"That green is treacherous, though. You want to hit it in the right spot on that hole for sure. But yeah, I love the wrinkle. I loved it last year. Hopefully it'll get rowdy this weekend."
Lydia Ko hoping another CPKC Women's Open title will bring honourary Canadian crown with it

LPGA phenom Rose Zhang hosts kids' clinic at Musqueam, gives straight goods on pressure in Q&A
---
Summer subscription sale: Our in-depth journalism is possible thanks to the support of our subscribers. For a limited time, you can get full online access to the Vancouver Sun and The Province, along with the National Post and 13 other Canadian news sites, for just $40 for one year or $1 a week for 52 weeks. Support our journalism by subscribing today: The Vancouver Sun | The Province.