"It was so random that no one really knew what was happening," laughed Dick.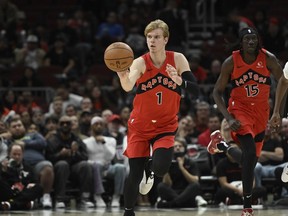 Article content
TORONTO — In his first ever NBA pre-season, forward Gradey Dick promised himself to put in long hours at the Toronto Raptors' training facilities and do whatever his coaches asked of him.
That dedication quickly paid dividends as it led to him appearing in a music video with famous Toronto rapper Drake.
Article content
Dick had returned to the OVO Athletic Centre, the Raptors facility in downtown Toronto, after the team's training camp in Vancouver because he had left some things in his locker.
"I just saw people running around with cameras and I was like 'what's going on?"' said the 19-year-old Dick on Thursday after practice. "It was Drake filming a video with his son.
Article content
"I had plans to meet Drake when he came back to Toronto but we happened to just be there randomly but he was like 'hey, why don't you hop in for a little cameo?"'
Although Drake is in the video, it's actually a song by his six-year-old son Adonis called "My Man Freestyle." Dick, Adonis and Drake all sit alongside each other at a news conference podium as Adonis raps.
Dick's whirlwind foray into the world of hip-hop happened so quickly his new teammates didn't even have time to react to his distinctly Toronto experience of meeting Drake.
"It was so random that no one really knew what was happening," laughed Dick.
Aside from rubbing elbows with local celebrities and their kin, Dick is trying to get up to speed with the NBA's pace. Dick was drafted by Toronto in the first round, 13th overall, after averaging 14.1 points, 5.1 rebounds, and 1.7 assists in 36 NCAA games with Kansas last season.
Article content
"I think the schedule here calls for a lot more because, obviously, at school there's more to juggle," said Dick. "Here it's just practice, get your work in, and then you have all day to really kind of utilize for your advantage whether that's watch more film, sit down with coach, it's just a lot more is asked of you."
Added Dick with a laugh "Just no homework."
Point guard Dennis Schroeder, who signed with Toronto as a free agent in the off-season, said that Dick is still "a little hectic" when he plays, but that he's a good guy and already showing his professionalism.
"Still trying to find his ways," said Schroeder. "But I think we've got a good group of guys who are guiding him and trying to teach him and hopefully he's going to embrace that role and get better every single day.
Article content
"But I mean, when I was at 18, 19 and came (to the NBA) I was only one speed too. So, I mean, that's the process. You've got to go through it and he's gonna get it."
Toronto hosts the Washington Wizards at Scotiabank Arena on Friday in their final game of the pre-season. Raptors head coach Darko Rajakovic said he's looking for his team to keep flowing on offence.
"I think it's going be very important for us in this last game to continue building our habits in transition," said Rajakovic at the OVO Centre. "I think we're doing a much better job of getting to extreme corners, opening up the floor for each other.
"I think in the half court, (we're looking for) decisiveness and aggressiveness of going downhill and reading the game from there, being able to find layups or finding the wide open man from there."