The inaugural season in the Canadian Premier League has been a challenging one for Vancouver FC, but they saw it coming.
Reviews and recommendations are unbiased and products are independently selected. Postmedia may earn an affiliate commission from purchases made through links on this page.
Article content
Vancouver FC's inaugural season to date can be summed up thusly: It hasn't gone as planned, but it has gone as expected.
Article content
Heading into Saturday's game in Halifax, VFC sits last in the eight-team Canadian Premier League standings with a 3-5-10 record, having surrendered the most goals (33) while scoring the fewest (15).
Article content
There have been plenty of bright spots so far for the Langley-based pro soccer team, which was officially announced in November 2022 — just five months before it was scheduled to play its first game. There was a gutsy, short-handed draw against Cavalry FC in their home debut, then a 2-0 home win over three-time champs Forge FC, the emergence of 16-year-old wunderkind T.J. Tahid, and a shiny new galvanized steel stadium at Willoughby Park beside the Langley Events Centre.
But those positive sparks have been swallowed by the gloom of the losses and too-fluid roster that is far different than the one from the season's beginning.
Article content
"I always have high expectations," said Rob Friend, part of the team's ownership consortium, SixFive Sports and Entertainment.
"I think if I'm sitting here right now, looking at where we're at, I'd say on the field where we're nowhere close. But also trying to be patient and understanding that this is a startup team.
"It was built very quickly. When you look at startup teams across the MLS, new franchises, they have two to three years to build the organization. In reality, we had about two or three months to sign players, sign a coach, build a technical staff, and build the business and front office staff.
"I also have to understand that we've somewhat rushed the on-field product and player signings, and we're paying for it. But again, that's to be expected, and … I think we're not that far off from competing in a playoff spot."
Article content
For that to happen this season, it would take a near-perfect final 10 games, starting Saturday against HFX Wanderers, to make up the 12-point gap between themselves and fourth-place Atlético Ottawa, not to mention leapfrogging the other three teams in between them.
And the season began with plenty of energy, optimism and brash enthusiasm. There was the 1-0 season-opening loss to Pacific FC — the other CPL side 65SEE had started — followed a controversial 1-0 loss to York United in the Canadian Championship, but that was quickly followed and avenged by a 2-1 regular season win over the same Nine Stripes side three days later. Following the first win in club history, the Eagles were feeling themselves. Shaan Hundal popped off and took a shot at the big-budget Vancouver Whitecaps in the media, a brassy move for a team that had only played three games.
Article content
"It's nice to have a team in Vancouver that has a brand," he said at the time. "I know the Whitecaps are there, I don't think they're winning a lot of games. It's nice to be a new team that got a win this early in this season. I hope we can show all of Vancouver what we can do and what the Whitecaps can't."
It proved a biblical moment — "Pride goeth before destruction, and an haughty spirit before a fall," as the club embarked on a seven-game winless streak after Hundal's comments.
There were also the signing missteps Friend alluded to; Mexican striker Gael Sandoval was supposed to be a game-changer, but he ultimately changed leagues and cities after just 13 games. He had just one penalty kick goal and three assists before the two sides mutually parted ways in July, and he returned to Mexico with second division side Leones Negros.
Article content
Midfielder Cristian Mares was another hot prospect, joining VFC on loan from Liga MX side Puebla FC, as was former Crystal Palace youth player Emmanuel Robe. Their tenures ended also quickly, quietly, and without impact.
Belizean national team player Eugene (Pele) Martinez? Smoke in the wind. Khalil John-Wentworth? It was like he'd never played a minute for the club … because he didn't.
But reinforcements have arrived. Former Pacific FC striker Alejandro Diaz returns to the CPL on loan from Norway's Sogndal IL, a Golden Boot-winning forward who had 26 goals for the Tridents. Renan Garcia, a seasoned and globetrotting 37-year-old midfielder, comes to Vancouver with reams of experience, including a Serie A stint with Sampdoria. Closer to home, the Whitecaps loaned WFC2 midfielder Vasco Fry to Vancouver for the rest of 2023.
Article content
"We've had a lot of transfers, and in training this past week, they've come made an immediate impact," said defender Anthony White. "You can see our training sessions, our tempo, has been very good. We're looking very sharp. …
"From a developing a team perspective, I think the coaches did a very good job. I kind of sympathize with them; it's very hard to build a roster around mainly video because you don't know, for example, like some of the personalities or something that might come.
"The results up to this part of the season have not gone away, but that's expected … being an inaugural team and trying of build chemistry."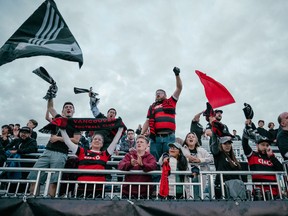 After a sellout of 5,000-plus fans for their home debut, there have been fewer coming through the turnstiles at Willoughby Park than Friend would like, with a regular crowd of around 2,500-2,800. Attendance looks lower on TV with the cameras facing the secondary grandstand, but the atmosphere provided by the Fraser Valley Fanatics supporters groups has made it feel fuller.
Article content
"Attendance wise … I would just leave it as Vancouver — as everybody knows — is a very challenging sports market, probably more than it's ever been," said Friend. "Whether it's other other sports to compete against competing against life, dollars … that's obviously challenging.
"I'm not happy until we have a 4,000 to 5000 in that stadium. OK, so then 'how do we get there?' is really what the exercise is.
"Overall, it's been probably more challenging than expected, but it is a startup in a very difficult, sophisticated sports market, and I would say that we're understanding it better. And now I think we have a clear direction of what we can do and do better and hopefully move the needle."
The season been a journey for head coach Afshin Ghotbi, whose soccer travels have taken him all over the world, as well. He also knew coming in this would be a multi-year project, and went through his own adaptation period to the league.
Article content
Practicing on turf, but playing on grass; flying 5,900 kilometres across the country – like Saturday's game — then back to Langley to host a team from the other coast; the required rules, regulations and red tape that make building a CPL roster a headache-inducing task; and doing it all on a shoestring budget.
But he's made huge strides in developing young, Canadian talent — which is the league's mission statement — in developing players like Tahid (the youngest player to sign in CPL history) and White (the CPL's youngest-ever Sports draft pick). VFC leads the league in the required U21 minutes, a welcome by-product of having the league's youngest roster.
"I've learned a lot in the last six months and already you've seen it in the new signings in the transfer window," he said Friday. "We're getting it right. I thought the first time, we didn't get it right."
Article content
But there is patience from ownership, and precedence for it. The only other CPL expansion team was Atlético Ottawa in 2020, a club backed by Spanish giants Atlético Madrid. Even with their deep pockets and talent pool, the Ottleti had dismal losing records their first two years, before winning the 2022 regular-season title.
"I think (Ghotbi) has done a phenomenal job, incredible job," said Friend. "You can see that we're playing disciplined, we're playing organized. The reality is we're competing against teams in this league that are five years old, that have spent five years building their roster and and strengthened every year.
"It's a great entertainment product, it's good football, despite being where we're at in the table. It's only gonna go up."
Article content
Twitter.com/TheRealJJAdams
REMAINING HOME GAMES
With the season nearly two-thirds over, there are just five home games remaining for Vancouver FC at Willoughby Park at the LEC.
Saturday, Aug. 19, 1 p.m.: Vancouver FC vs. Pacific FC
Sunday, Sept. 3, 2 p.m.: Vancouver FC vs. Forge
Saturday, Sept. 9, 7 p.m.: Vancouver FC vs. Atlético Ottawa
Saturday, Sept. 23, 1 p.m.: Vancouver FC vs. HFX Wanderers
Friday, Oct. 6, 7:30 p.m.: Vancouver FC vs. York United
Vancouver FC adds to roster by signing Lebanese international Gabriel Bitar

CPL expansion club Vancouver FC adds local 'keeper Irving as first ever signing
---
Summer subscription sale: Our in-depth journalism is possible thanks to the support of our subscribers. For a limited time, you can get full online access to the Vancouver Sun and The Province, along with the National Post and 13 other Canadian news sites, for just $40 for one year or $1 a week for 52 weeks. Support our journalism by subscribing today: The Vancouver Sun | The Province.