The Portland Timbers just fired coach Gio Savarese, but will that give them a boost or will they lose their juice?
Reviews and recommendations are unbiased and products are independently selected. Postmedia may earn an affiliate commission from purchases made through links on this page.
Article content
Saturday's Cascadia Cup clash won't see the usual exchange of wine between head coaches Vanni Sartini and Gio Savarese, not since the grapes between the Portland Timbers coach and his club have officially soured. The MLS club axed the long-time Timbers bench boss on Monday, with the team languishing in 12th place in the West, five points below the playoff line.
Article content
Savarese, hired before the 2018 season, was 74-47-62 with Portland, taking them to two MLS Cup finals (2018, 2021) and winning the MLS Is Back tournament in 2020.
Article content
"I'm biased, because I'm a friend of Gio," said Whitecaps head coach Sartini. "I would have loved for him to be on the bench next Saturday and play against him. But it is what it is.
"I sent a text to him and said that I know that it's going to be very, maybe sad at the moment, and a down moment, but he doesn't have to forget. And in Portland, they will never forget.
"The fans and everyone who follows MLS (remember) that he went to two MLS Cup finals, he won the MLS Is Back, and he did very well with this team for at least four and a half season out of five and a half. But we know that we are in a business of results, and sometimes it's not about memory.
Article content
"Most of the time you say that 'football has no memory.' I always say that it's like a romantic relationship: You don't have to think what you invested before, but you have to think every time if there's a future for this relationship. Probably they … thought there was no future and then they took this decision. And I'm sure that Gio will find another bench soon because he's one of the best coaches in MLS."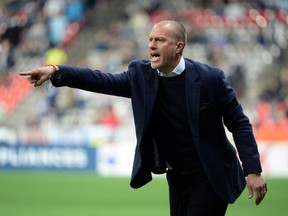 The Timbers missed the playoffs last season, heading into Decision Day in 2022 needing a win or a draw against Real Salt Lake to clinch their spot, then crashed out with a 3-1 loss. There have also been multiple reports of Savarese clashing with his players. A listless 5-0 road defeat to the Houston Dynamo on Sunday was the final straw, with just one win in the last seven games (1-3-3). The Timbers (6-10-8) aren't the worst team in the West, but their current standing isn't up to the club's historical standards.
Article content
"This decision was not made just because of a poor result and performance this weekend. … Sometimes, there's a life cycle in what we do," GM Ned Grabavoy told The Oregonian's Ryan Clark.
"I do believe we have adequate talent. … For some reason, it hasn't added up to better results and performances."
Portland had been in a five-game winless skid before beating the Columbus Crew at home in July, and performed well enough in Leagues Cup, downing San Jose 2-0 before losing 2-1 to Tigres, playing half the game with 10 men before surrendering an 80th minute winner.
But Grabavoy had seen enough, parting ways with a coach considered a club legend, and one who had signed a fully guaranteed contract through 2025 last October. The club is still in the playoff picture, and nine of their 10 remaining games come against West opponents, and six of those are at home.
Article content
Such is the tenuous life of anyone involved in professional sports. Savarese lasted nearly six seasons with the club before being let go. Bob Bradley's disastrous tenure with TFC lasted a season and a half. The man he replaced in Toronto, Greg Vanney, is still employed with L.A. Galaxy even with the Galaticos mired in 13th place — below Portland.
Sartini has spent his time on the hot seat, which has ranged in temperature from molten hot to frothy frappuccino during his time in Vancouver. His perch is currently cool, but the Caps coach knows that can change in a flash.
"You always know that every time that you lose two or three times in a row you get back in the hot seat," he said. "But the way that you work and perform on the field must be the same … if you're doing very well, or if you're (on) a 10-year contract, or like me, you have a contract that ends in three months."
Article content
With the Whitecaps (8-8-7) embarking on a seven-game road swing, the longest in club history, and having well-known issues winning away, Sartini's job security might well be different come the end of September. The Caps are in eighth place, tied with Minnesota on 31 points and games played, but holding the goal-differential tiebreaker.
Eleven games remain in the regular season, but four of those come against Eastern teams, and getting a result at Providence Park would be a huge step in staying above the playoff line.
"It's a big question mark," Sartini said of what kind of Portland team they will be facing.
"Because when you face a team that changed the coach, you don't know what the reaction will be. It can be very strong reaction sometimes, like a rebound, or they can sometimes still be in a little bit of confusion, and maybe you can try to exploit and profit from this kind of situation.
Article content
"So I think that the easiest thing is to be focused on us we focus on, doing the things that we're doing well.
"I think the last seven games' … performance, I think we played very well. We need to keep playing that that kind of soccer, and I'm still convinced that if we play (next week) like we played Sunday (against San Jose), I think the chances to win in Portland are really high."
Twitter.com/TheRealJJAdams
Vancouver Whitecaps place back-up goalie on season-ending injury list

Earthquakes 1, Whitecaps 0: Lack of finish not helping Vancouver in MLS playoff chase
---
NEXT GAME
Vancouver Whitecaps (8-8-7, 8th West) at Portland Timbers (6-10-8, 12th West)
Saturday, 7:30 p.m. PT, Providence Park
TV: Apple TV. Radio: AM730
---
Summer subscription sale: Our in-depth journalism is possible thanks to the support of our subscribers. For a limited time, you can get full online access to the Vancouver Sun and The Province, along with the National Post and 13 other Canadian news sites, for just $40 for one year or $1 a week for 52 weeks. Support our journalism by subscribing today: The Vancouver Sun | The Province.