After he played just one game in pre-season, it seemed clear the young defenceman would get some time in the AHL before returning to the NHL.
Get the latest from Patrick Johnston straight to your inbox
Article content
When you play just one pre-season game, you're not really expecting to get the call-up to the big leagues when your team is facing an injury crisis.
Article content
And yet there was Akito Hirose, taking the morning skate Wednesday and set as the Canucks' sixth defenceman for their season opener versus the Edmonton Oilers at Rogers Arena.
Article content
With Carson Soucy and Guillaume Brisebois big question marks, Canucks head coach Rick Tocchet could have turned to a veteran defenceman currently with AHL Abbotsford.
Christian Wolanin, for instance, was only sent down on the weekend after playing in three pre-season games, one of the final cuts from the Canucks' NHL roster. Wolanin was on the team roster to close the season last spring and has plenty of NHL experience.
Matt Irwin, signed in the summer, was sent down early in camp, but skated in 60 games for the Washington Capitals last year.
Article content
Instead, the call was made for Hirose, the slight but skilled defenceman the Canucks signed out of college last spring. Hirose impressed in a seven-game cameo to close last season, but was average in training camp.
He wouldn't be the first player who made an impressive jump from the NCAA to the NHL but who still needed more time in the American Hockey League to truly figure out the pro game before finding his way back to the NHL.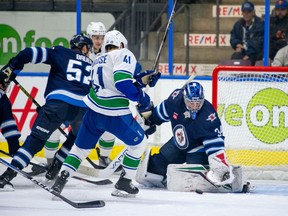 "I think I left a little bit on the table," he said Wednesday morning about his pre-season. He played in just one pre-season game.
Even with the bits of success he had last season, he said he recognized how much more he needed to do if he were going to be an NHL regular.
He has been one of the best players on his team throughout his life — but once you're in the NHL, you're in a fight to prove you can be reliable.
Article content
"I'm sure every guy in this room has been that guy," he said. "Now it's recognizing it's about what you do at the other end of the ice."
And it's now up to him to make it hard for the Canucks' coaches to send him back down, he added.
Two things played into the decision to bring Hirose back, despite him only skating in a single pre-season game: Hirose's hockey IQ primarily, but also some disappointing play from the more experienced alternatives.
The Oilers, who the Canucks will face again on Saturday night in Edmonton, play such a fast game, such a varied game, that Tocchet believes you need brains more than brawn to be a successful defender.
"There's certain setups that they do, you need brains out there and he has 'em," the head coach said.
Article content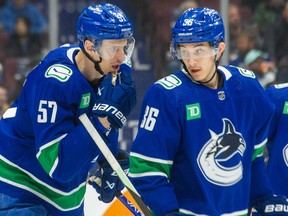 Because of the Soucy and Brisebois injury doubts, the Canucks could have recalled Irwin or Wolanin under emergency conditions. That would have meant they wouldn't accrue any time against their waivers clock — you can be in the NHL for 30 days or 10 games before you have to be waived again to be sent back to the minors. So the selection of Hirose was intentional.
Tocchet made it clear that Irwin and Wolanin didn't show well enough in pre-season.
"We only had six exhibition games. I wanted to make sure we had some of our regulars — they had four months off, so I wanted to get them in there, you got to find that sweet spot — and couple other guys, we gave them a longer look. We thought they would honestly be ahead and they weren't. And this is kind of where we're at now," he said.
Article content
Tyler Myers, who is likely to be partnered with Ian Cole to start — Noah Juulsen was skating as Hirose's partner on Wednesday morning — said the young defenceman's poise showed immediately at the tail end of last season.
"The first thing you notice with him is he's very calm. You know, even off the ice, he's just very calm person. Very poised. And I think that shows in his game. He's a smart player who makes smart plays on the race," Myers said.
ROSTER JUGGLE — Soucy, who appeared to injure his knee during last Friday's final pre-season contest versus the Calgary Flames, skated on his own Wednesday morning, Tocchet revealed. Originally the head coach said he believed the rugged blueliner would be out week-to-week, but has suggested Soucy's timeline for a return is hazy. Brisebois remains a question mark, with no clarity on what his injury might be nor on his status. … Ilya Mikheyev continues to be a full participant in practice, but was ruled out for Wednesday's game. He was relatively upbeat after practice, telling a reporter he was "close" to a return, thought Tocchet was hesitant to commit to a target on when the speedy winger might suit up. … Teddy Blueger's status remains unknown; he also skated on his own Wednesday morning. If wasn't able to suit up Wednesday night, the Canucks would be forced to play a forward short because they are out of cap space. But if they do play a man short Wednesday, they'd be eligible to recall a forward from Abbotsford whose cap hit is less than $850,000 and get full relief from their cap hit until Blueger or Mikheyev were ready to play again.
Article content
Recommended from Editorial
Canucks Game Day: Will structure be foundation for season-opener win over Oilers?

Canucks' Conor Garland has changed agents and appears to want a trade
---
Bookmark our website and support our journalism: Don't miss the news you need to know — add VancouverSun.com and TheProvince.com to your bookmarks and sign up for our newsletters here.
You can also support our journalism by becoming a digital subscriber: For just $14 a month, you can get unlimited, ad-lite access to The Vancouver Sun, The Province, National Post and 13 other Canadian news sites. Support us by subscribing today: The Vancouver Sun | The Province.